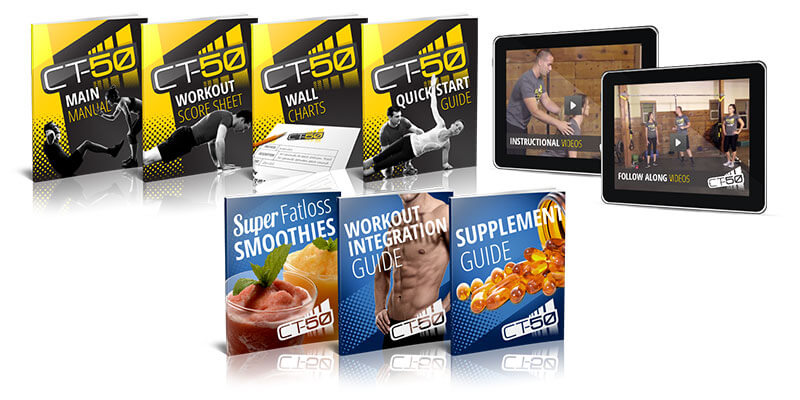 An honest and in-depth CT-50 review from someone who completed the program.
Find out why I workout with the "garage warrior."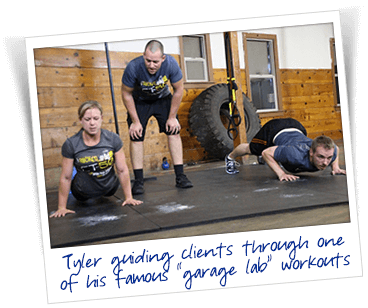 Last year I started a program called CT-50, which is a cross-training home workout program.
I want to review CT-50 here because it has advantages over the mainstream workouts – like the BeachBody empire (i.e. P90X).
I'll start with a quick overview of my thoughts and if you want more – keep reading – the in-depth review follows below.
This article contains affiliate links, which means I receive a commission (enough for a couple of beers) if you make a purchase using this link  . . .
. . . or any other link in this article . . .
If the program was total garbage (and I've tried some that were) . . . I wouldn't be wasting your time (or mine).
That said . . . I share the good AND the bad.
Why?
No program is perfect . . . but one may be a better fit for YOU.
If I can just get YOU working out more – I've accomplished my goal.
Now on to the details.
CT-50 Mini-review:
Frankly, I was looking for something easy.
The claim for CT-50: Workout in 20 minutes or less.
I was in!
I was quite out of shape and needed something easy.
CT-50 was inexpensive and entirely online, which made it easy to "click through" and try out the program.
The program consisted of 5 levels progressing from easy to harder –  10 workouts in each level.  There were over 50 distinct workouts, which was astonishing given the handful of routines you see in other programs.
The variety kept me interested.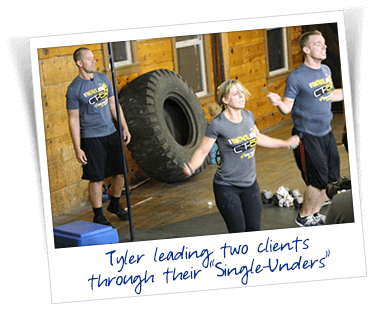 I spent months working out in my basement with kettle-bells, hand weights and body movements and did experience improvements in my strength and muscle mass.
I was not terribly overweight at the time, so there was no picture-worthy before and after transformation (and even if there was, I would never broadcast my body across the internet).
Improving strength and building muscle is slow and requires consistency (especially at my age – mid 30's), which is how CT-50 helped.
My wife and I have always used either a basement or garage to work out in.
Any money I have ever spent on a membership gym has been mostly wasted in my lifetime.
Good initial intentions would fizzle out overtime and I was left with an unused membership.
I guarantee you – I am not the only one with this experience.
We learned early on that home programs and DVDs worked best for us.
Over the years we collected hand weights, resistance bands, yoga mats  and even a punching bag.  We even had several old and well-used workout videos gathering dust.
So, we had equipment to use, but I chose to purchase CT-50 and a kettle-bell to add to our collection.  A hand weight would have sufficed, but I just had to buy something.
Tyler Bramlett, the creator of CT-50, trained heavily in kettlebell routines, so kettlebells are used throughout the program.
The kettlebell swing is an efficient maneuver because it works so many muscles of your body in each swing.
CT-50 utilizes large, intense movements during shorter time intervals – 20 minutes or less.
Shorter, intense exercise routines have been found to be as effective (or even more effective) than longer routines, moderate intense exercise.
Hence the popularity of high-intensity interval training (HIIT).
HIIT is short bursts of intense activity.
Benefits such as increased strength and cardiorespiratory fitness occur with workouts as short as 3 minutes, however most programs that have been studied are generally 20 minutes or so long.
Now, CT-50 is not HIIT.  It's based off HIIT research, but technically not the same.
HIIT has been studied mostly on stationary cycles and treadmills.  So, technically CT-50 is short, intense bursts of activity doing circuit training.
Most commercial programs do not have the budgets to do long research trials to demonstrate effectiveness and instead rely on testimonials.
You've seen them . . . the sometimes unbelievable transformations from fat to fit.
You wonder if they were entirely photoshopped to look skinny.
I'm sure photoshopping occurs frequently.
I will admit that this program was not as polished as others (i.e  p90X).
This lack of polish had an interesting effect.
I felt like I was working out with Tyler Bramlett in my own garage.
What I did like was that it was easy . . . initially.
The first level to the program was fairly simple and not too devastating to my body.
One complaint I have with the mainstream workout programs is that they do a poor job of gently easing you into a workout.  This makes it difficult for those who would benefit the most from such a program . . . those fellow couch potatoes who are completely out of shape and obese.  If you are out of shape, you to progressively improve your fitness level.
I think this program is the best at this progression that I have used.
Hence, the proprietary "Progressive Movement Technology" that is promoted with CT-50, but seems to be more marketing hyperbole.  Regardless, it did a nice job of progressing through the program in a way that did not destroy me.
Usually a program such as p90X will kick your tail hard to remind you that you got your money's worth . . . because you feel worked over and beaten.
It hurts so bad it must be good for you.
However, I believe mostly the soreness leaves people discouraged and less likely to keep moving through the program.
As an example here is how CT-50 starts (first workout of level 1):
3 rounds of the following moves in under 10 minutes:
• 20 Touch Jumps
• 10 Two Arm Presses
• 5 One-Leg Shin Taps, Left
• 5 One-Leg Shin Taps, Right
• 10 Two Arm Rows
• 20 Climber Toe Taps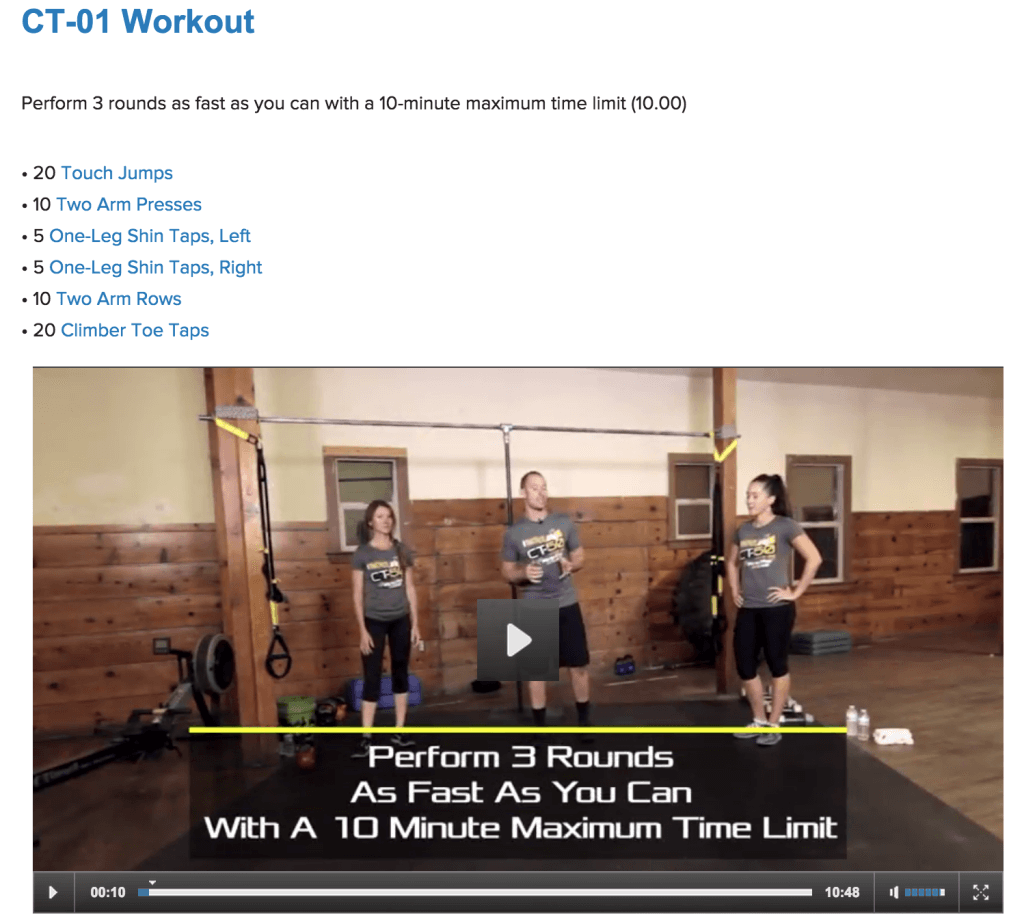 I survived this and went on to complete the program.
I cannot say that it miraculously transformed me in only 20 minutes a day, but it got me on the right track by improving my strength and endurance . . . without an injury!  (When I started p90X, I injured my knee, which I feel is more common than we are aware.  I really wonder what the drop out rate is in some programs like p90x because of injury.)
At the time I did not have 60 minutes to workout (and still do not), so knowing that I only needed 20 minutes or less (and often only 12 minutes) was motivating.  Ninety percent of the results is just showing up and I could show up for 20 minutes.
Overall, I liked the program especially as a starter program.
I would not hesitate to recommend CT-50 to get someone started on a workout program.
It's inexpensive ($37 vs $100+ for some of the beach body programs) and does a fair job of getting in a good workout in a short amount of time with little risk for injury.
The Skinny:
Pros:
Downloadable videos and PDF files.
Available on multiple screens such as laptop, iPad, desktop, or stream it on AppleTV .  View the videos wherever the internet is available.
Tyler Bramlett is not "over-hyped" as a trainer and does a fairly good job.
Inexpensive  (one payment of $37) compared to other programs (such as the Beachbody empire for $100+ per program).
Uses minimal equipment (hand weights and a kettle-bell).
Less likely to promote injury because of the progression of the program.
Cons:
Videos are not as professional and polished as I have seen with other programs.  This was tolerable as too much polish is annoying.
You can check out CT-50.com for yourself if you are interested.
Need more?
Than check out the in-depth analysis of CT-50.
The whole enchilada.
The complete CT-50 review.
---
 
What is CT-50 anyways?
"Cross-Training" 50.
Cross training is a combination of exercises.  It's mixing it up.  You do combinations of exercises to balance out your movements, improve results and hopefully avoid injury.  Cross training is taking maneuvers from separate sports and exercises to accomplish this.
The CT-50 cross training program utilizes full body movements to combine cardiovascular and strength training in one.
There are 50 workouts.  Five levels and 10 workouts for each level.
This means there are hundreds of  exercises.
One benefit of the program is it's flexibility.
If you're a beginner, start at level 1 and work up.  If you're totally fit and ready for advanced levels, you can start at levels 3-5.
There's even a nifty way to find out where you should start.
There are 4 challenges with a scoring system to allow you to find a starting point.
It's recommended to workout with CT-50 between 3-5 days per week.
This is also different that other programs.  It's common that a program recommends 6 days a week of workouts, sometimes for up to an hour at a time.
Between the workout days you should still  move.  Go for a long walk, stretch or do some yoga.
Who is Tyler Bramlett?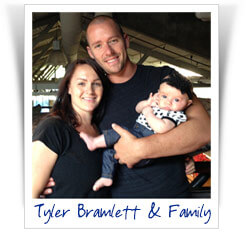 Tyler Bramlett otherwise known as the "Garage Warrior" is the creator of CT-50.
He is credentialed as a USAW Sports Performance Coach as well as a Crossfit Trainer.  He is also heavily credentialed in kettle bells – a Certifiied Russian Kettlebell Instructor as well as a Certified Kettlebell Functional Movement Specialist.
He runs the website garagewarrior.com where he interviews other fitness gurus and runs a community forum.  He also has a podcast about fitness.  Tyler Bramlett also has a YouTube channel where he dispenses fitness advise.
What's the Price for CT-50?
$37.
The price appeared reasonable.  So, I chanced it.
I've paid more for programs in the past . . . in the $100+ range for some of the more mainstream commercial workout programs.  I justify my purchase as an investment in my health.  An investment that will pay off better then most in the long run.
Paying for a program is also a commitment to work out.  Don't use it and you've wasted your money.
So buy something and commit to doing it!
This program seemed inexpensive in comparison to others.  I've wasted money more foolishly in the past.
Was it worth the cost?  It was for me.   I used the program for several months, which comes out to about several cents a workout.
Is there a money back guarantee?
Yes, which was reassuring.
The guarantee was for 60 days.  I obviously didn't need it, so I cannot comment on backend support for the product.
I did search for CT-50 and Shapeshifter media Inc (the company name displayed at the bottom of the dashboard page) under the Better Business Bureau (BBB) and was unable to find any matches.   A search for CT-50 scams also came up with nothing beyond the typical garbage – affiliates trying to get your click.
What I can tell you is that I bought the product and I received the product as advertised.
You can see this in the pictures of the "dashboard" later.
Because I had no need to "return" the product I cannot comment on whether the company would honor a reimbursement.  I have no reason to suspect they wouldn't, however, and would be surprised to hear about bad practices.
I would also pull this review off my site and disown CT-50 if I was aware of shady practices.
It's never in the best interest of a real business to simply scam people, but of course it happens, so buyer beware and do your own research.
Does CT-50 offer customer support?
Yes, support is offered by email and phone.  There is a customer support line.
I have not needed this, but I am happy it exists.   If there would be a technical issue – which is possible with an online product – you would have a real person to troubleshoot with.

What do you get when you order CT-50?
50 Workout Videos (5 levels and 10 workouts with each level)
20 Instructional Videos Teaching over 130 exercises
CT-50 Main Manual (43 pages)
CT-50 Quick-Start Guide (11 pages)
CT-50 Wall Charts (58 pages)
CT-50 Workout Score Sheet (52 Pages)
Super Fat Loss Smoothies Bonus
Integration Guide Bonus
Supplements Guide Bonus
5 Day Fast Metabolism Repair Plan
Pullup Bar and Suspension Trainer Substitution Guide
Power Isometrics Guide
The real value is in the workouts.  I'm not a fan of supplements or "fasting" as a means for better health.  Supplements have not been proven to be beneficial by any serious science standard and I do not recommend regular fasting to "repair your metabolism."
I think you can just ignore those plans and focus on the workouts, which are pretty good for the money.
CT-50 Main Manual – 43 Page PDF
This is the main manual, which delivers some good health advice.
For instance, eat real foods like vegetables, nuts, seeds, tubers and some meat.
The guide also recommends drinking plenty of water and getting some sleep.
Lastly, the manual recommends supplements, which I don't agree with.  If you are eating whole, real fruits and vegetables and some limited amount of meat (avoid red and processed meat), you should be nutritionally sound.  There is simply no need to to take supplements or even a multivitamin for overall health.
The multivitamin and supplement industry is huge . . . a multibillion dollar industry.  However, there are no proven scientific benefits.  Just a proven way to make expensive urine.
This is modern day snake oil.  So skip the supplements and just eat real fruits and vegetables, beans, nuts, seeds and fish.  Limit meat, especially red and processed meat because of it's link to cancers such as colorectal cancer.
The manual also recommends walking, which is excellent advice.
If you want to lose weight, consider getting 40-60 minutes of walking in on your off days.
CT-50 provides between 10-20 minutes of good cardio and full body strength training.
I would recommend that you go hard and consider an interval walking program.
CT-50 Quick Start Guide – 11 Page PDF
If you are a fan of simplicity, than the quick start guide is for you.  As advertised, the quick start guide gives you an overview of CT-50.  It lays out how to do body measurements before and after the program.  I never get around do doing that myself, but to seriously track your progress, body measurements can be helpful.
The quick start guide also gets you quickly started on a healthy diet.  It shows you which foods to avoid and which to eat.  If you have never studied nutrition – this guide would be helpful.
The food guide breaks it down very simply to BEST foods, MEDIUM foods and WORSE foods.
I love simplicity.
CT-50 Wall Charts – 58 Page PDF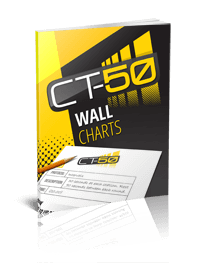 The wall charts map our all of the workouts – all 50 of them.  This is a nice feature.  You could learn the exercises through the videos and essentially graduate to only doing the program with the wall charts.  This would allow you to multi-task a bit and listen to something other than Tyler Bramlett like a podcast.
CT-50 Workout Score Sheet – 52 Page PDF
The workout score sheets is a place for each workout that allows you to keep track of your "CT-Score."
The CT score is the time it took you to complete the workout, which allows you to keep track of yourself and even compete with your previous score.
How Do You Get Access to CT-50 workouts?
The program runs through a membership site.  It's very much like a membership site without the recurring membership fee.  Just a single fee of $37 up front.
The web portal as you see here.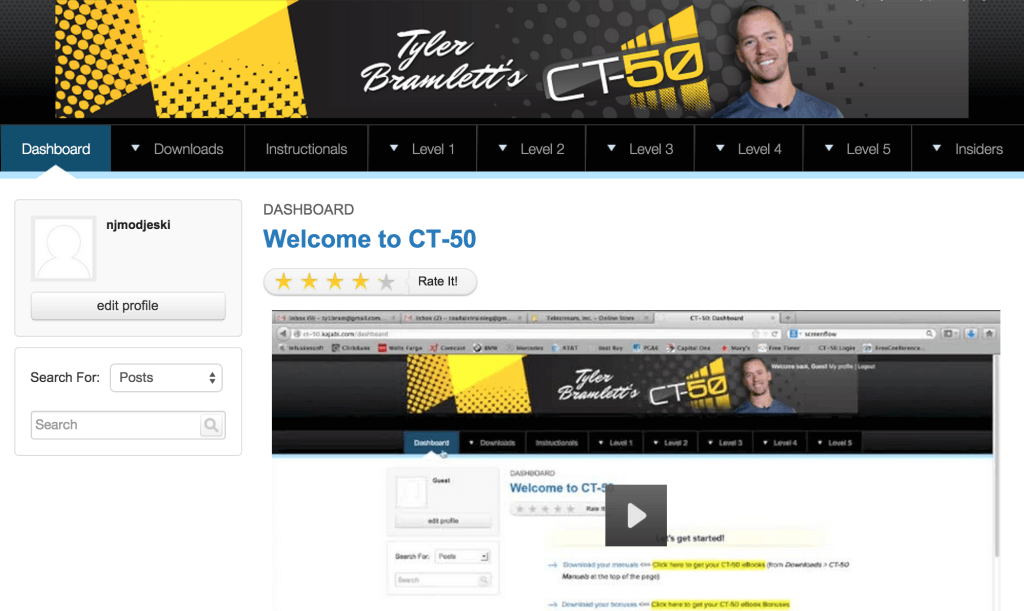 You have a dashboard that houses all of the manuals and the online videos.  You essentially have access to the workouts wherever you have internet or LTE access.  This means you could do the workouts on your LTE enabled smart phone if you want.  I wouldn't suggest that, but it's an option.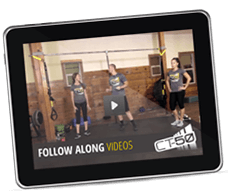 Watching the videos would work fine on an iPad, Samsung Galaxy Tab, Amazon Kindle Fire or a google nexus.
The videos could also be watched on your TV as long as you had a Smart TV (internet enabled) or possibly streamed with an Amazon Fire TV stick or Apple TV.
I watch the videos on my Macbook Pro in the basement where I typically workout.
You also have the option to download the video file to watch on your computer at a later time, so you are not dependent always on your internet connection.
How are the quality of the online videos?
The quality of the videos are fine.  What I like about CT-50 in fact is that it is not quite as "polished" as other programs.  It's obviously lower budget, or at least meant to make it feel that way.
Tyler Bramlett – the garage warrior – is known for videos showing you how to workout in your garage.  These videos do not take place in a garage, but certainly feel close to this.
It oddly feels like I'm in my own basement with the trainer getting a personal training session.  The videos are very "real" and show the imperfections of the people in them.
Tyler Bramlett's coaching style is not "over-hyped" as well.  Some trainers can be outright annoying with their constant joking and banter.  Tyler Bramlett seems to get to the point and focuses a lot on avoiding injury, which impressed me.
What fitness equipment do you need for CT-50?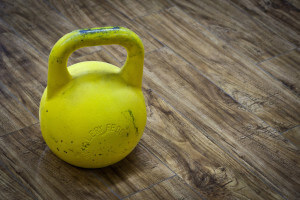 Just a few items.
The one crucial piece of equipment is a dumbell or a kettle bell.
If you're a beginner or just getting back into working out after time off – I would suggest a small 2.5-5 lb weight.
Kettle bells are used heavilly throughout the program, but a dumbell would suffice.  You can throw a dumbell like a kettle bell fairly easily at first.  However, as your strength improves, you'll want to purchase a dedicated kettle bell.
You will also need a pull-up bar or some resistance bands.
The program occasionally uses a TRX suspension training device.
I did not have a TRX and had no problems.  He provides alternative workout maneuvers and it is not utilized very often.  Use of this piece of equipment was a bit puzzling.  Not typically found in an average American basement.  Costly device as well in the $100+ category.  So, I don't feel you need to buy one specifically for this program.
Will you need a lot of space to workout with CT-50?
You'll need a space to workout, but not much space.  You'll do fine in any typical room including most living rooms or even in a New York efficiency apartment.  There isn't much lateral movement or running around.
You should have a hard floored surface or carpet.  We have a cement slab basement with a piece of odd carpet laid out.  The carpet is flat and not at all plush, which has been great for workouts.  It worked well for this program and all the others my wife and I have completed.
What is Progressive Movement Technology?
CT-50 claims to have a trademark technology called "Progressive Movement."
The idea is simple.
You graduate sequentially to a more complex series of movements.  You start with a simple maneuver that is a precursor to a more complex and difficult version later on.
As an example – you start with a squat, go to a jump squat, than lunges, than jump lunges.
This is a build up to more complex and difficult maneuvers.
This occurs throughout the course of the program, which allows you to get used to the movement over time.  This should theoretically help you to avoid injury, though I know of no research on this, which does not mean it does not exist – just that I have not found it.
I very much appreciate the emphasis on reducing injury.
Injury is a is a real and often under appreciated problem with the mainstream workout programs.  Often you simply jump in and start working out doing plyometrics and rather difficult maneuvers that puts you at risk for injury.
An emphasis on safety in these programs is overdue.  The most important thing for your health is to fuel up well with good foods, exercise and avoid getting injured (including motor vehicle accidents, plane crashes and even groin pulls with plyometrics).  Injury sets you back and is often de-motivating.  You sit on the sidelines and gain weight and lose muscle.  The opposite of your intended effect.  Stay safe and only do moves that you find you are comfortable with.  If it is beyond your skill level than do a safer version.
Could you use CT-50 to get ready for Crossfit?
Absolutely. The progression is great, but the end levels get pretty advanced.  For instance, the last workout has you doing handstand pushups and kipping pullups, which I have really only seen in Crossfit workouts.  These are advanced moves, that would certainly get you ready for the kind of workout you would expect at a Crossfit studio.
It's important to remember to have excellent form as these maneuvers done poorly, could lead to injury.  In fact, some of the later workouts I would not recommend most people to do as they are just too advanced.
I think the beginning is excellent and great to learn several circuit programs that you can use.  Like any program I tend to take some things away from it to use.  I never intend to use the program itself indefinitely.  I learned a bunch about kettlebells in CT-50 as well as some great circuit workouts that I could use.
Is CT-50 a safe workout program?
I would answer that I think it is safer than most any program I have completed.  This is because of the emphasis on safety and good form as well as the "progressive movement technology."
Tyler Bramlett does a nice job reviewing the correct form of the exercises.
There are instructional videos on how to perfect your form for most of the maneuvers.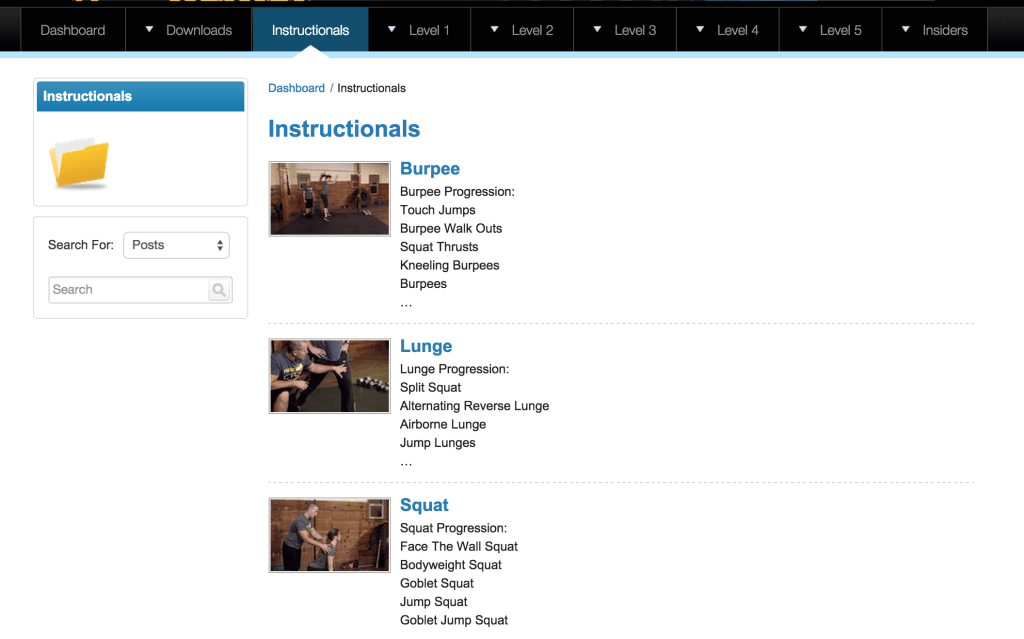 Now, I am not your doctor.  You should consult your personal physician to make sure you are safe and cleared for "vigorous exercise" especially if you have any disease conditions such as heart disease, lung disease or even diabetes.
This is especially true if you have heart disease.  You may not be excluded from doing this program for this reason alone, but need to consult with a professional who knows your history.  You may also need to get an EKG or go through a stress test to be cleared for vigorous exercise.
The risk of having cardiac arrest is small, but present and needs to be respected.
The higher level workouts may be simply too advanced and you may just want to skip out on them.  Fortunately, you can easily get tons of variety with the first 30-40 workouts!  You could recycle these almost endlessly and not get bored with the workout.
The Skinny:
Pros:
Downloadable videos and PDF files.
Available on multiple screens such as laptop, iPad, desktop, or stream it on AppleTV .  View the videos wherever the internet is available.
Tyler Bramlett is not "over-hyped" as a trainer and does a fairly good job.
Inexpensive  (one payment of $37) compared to other programs (such as the Beachbody empire for $100+ per program).
Uses minimal equipment (hand weights and a kettle-bell).
Less likely to promote injury because of the progression of the program.
Cons:
Videos are not as professional and polished as I have seen with other programs.  This was tolerable as too much polish is annoying.
Here is a garage warrior video with Tyler Bramlett discussing why it is so important to focus on the INTENSITY of you workout.
Here is Tyler Bramlett as Garage Warrior giving some advice for seniors.
Here's an interview with Tyler Bramlett you might find interesting.
Image Credit: Kettlebell by Andrew Malone on Flickr
[adsanity id=2672 align=alignnone /]