For those who want a great workout in a short amount of time, focus t25 is for you.
Focus T25 is all about efficiency; getting fit by committing 25 min of your day.
If time is your number one road block to fitness, t25 could be the answer. It certainly was for me.
I have never been one to drive to the gym. Simply put, I found the process of going to the gym tedious.
5-10 min drive, check in 2 or 3 kids to the childcare, get dressed, workout (unless children cry and the staff comes to get you), pick up kids from childcare, 5-10 min home.
This is easily a 2 – 3 hour event.
Even without the kids, the back and forth process does not get me home in under an hour. No way. Not to mention the expense.
I needed EFFICIENCY. I needed a short, effective workout program to do AT HOME with little to no equipment.
Enter T25.
Having dabbled with p90X, I was familiar with the Beachbody products and trainers. I was thrilled to see a new program by Shaun T, creator of Insanity, that promised results in 25 minutes a day.
Admittedly, I was skeptical. Never before had I done a workout video in less than 45 min. Of course, this was part of the problem. I had trouble maintaining consistency with long workouts.
And CONSISTENCY is the key, right?
What does it matter which program you choose or how long you spend working out if it only lasts a few weeks? Or worse, a few days?
At the time, I figured that 25 min a day would get me better results than the sporadic workouts I was doing.
As it turned out, T25 was a perfect choice.
Since starting T25, I have completed the program TWICE . Never before have I followed through with a prescribed fitness program.
T25, however, was motivating, fun and easy to commit to.
25 minutes, start to finish.
---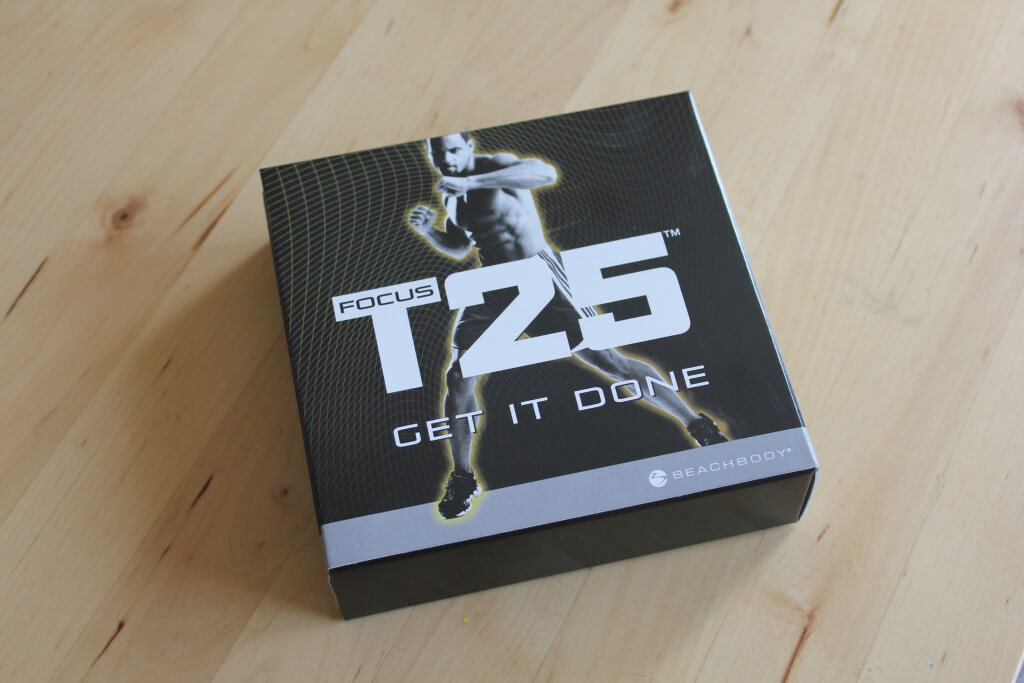 T25 was designed by Shaun T, expert fitness trainer and dancer and creator of the well known INSANITY workout series.
In collaboration with Beachbody, LLC, a sales company specializing in at-home fitness and weight loss programs, Shaun T has become a household name with the success of INSANITY and T25.
T25 workouts are moderate to high intensity, 25 minute routines with a 3 minute stretch/cool down. From start to finish in under 30 minutes.
Broken down into two levels (Alpha and Beta), each workout contains 30 second to 1 minute exercises focused on a specific area of fitness.
For instance, Core Cardio, is a cardiovascular workout that targets core strengthening.
Speed 1.0 or 2.0 is a workout meant to increase your speed and agility.
Why is the workout called "Focus T25?"
Focus T25 is aptly named.
The workouts require you to 'focus' for 25 minutes, as there are NO BREAKS.
This may sound intimidating, but the workouts go so fast, you often do not notice or need the recovery time.
T stands for 'Shaun T' and, as he says in the video, 'it also stands for Time'.
And TIME is the huge advantage of this program. A great workout in under 30 minutes.
How much does Focus T25 cost?
Focus T25 costs anywhere between $100 – $140, depending on where you buy.
Aside from the Beachbody website, you can find it on Amazon at various price-points.
 Is T25 worth 100 + dollars?
I say, ABSOLUTELY.
As a comparison, I used this program for 6 months. 6 months of membership fees at our local gym would have cost me $450 (75$ month).
And this does not account for TIME.
What comes in the box when you order Focus T25?
When you order Focus T25, you will receive 11 workouts on 9 dvds.
Alpha and Beta phases both consist of 5 workouts, with a Stretch workout shared by both levels.
The package also includes a quick start guide, nutrition booklet, workout calendar and resistance band to use during Beta.
Focus T25b Alpha Phase Review
The Alpha phase of T25 is meant to be a building block toward Beta.
In Alpha you become familiar with the variety of moves that are repeated throughout the series.
Alpha includes 5 different videos:
Cardio
Speed 1.0
Total Body Circuit
Ab Intervals
Lower Focus (Upper Focus comes during Beta).
During Alpha, Shaun T is focused on introducing moves, teaching proper form and encouraging modification.
Focus T25 Beta Phase Review
Beta phase is designed to be the next, more challenging, step after completing Alpha.
Beta also includes 5 videos:
Core Cardio
Speed 2.0
Rip't Circuit
Dynamic Core
Upper Focus
Unlike Alpha, which has a dedicated Core video, Beta combines Core work into every workout.
What are the chances of injury for Focus T25?
T25 has a lot of high impact exercises and could result in knee injuries if not careful.
I recommend working up to full intensity by following the modified moves provided in EVERY video.
In fact, the entire program can be completed following modified moves.
I completed both Alpha and Beta rounds using some modification and then did the entire series again with little to no modification.
Is Focus T25 a good program for a beginner?
T25 could be a good choice for someone just beginning an exercise program, but with one caveat: Modify!
This program is high intensity and includes exercises that can be hard on the body.
I highly recommend following the modified moves when starting T25. There is no reason to risk injury that could set you back from achieving your fitness goals.
Is Focus T25 a good fitness program for women?
I recommend T25 for anyone wanting to fit in an exercise program in a short amount of time.
The workouts go fast and you are done before you know it.
This program was perfect for me to do at home, before the family woke up in the morning or during afternoon nap time.
The Focus T25 Nutrition Guide Review
T25 nutrition guide is very simple and easy to use.
The guide offers two different options: a 1,200 calorie day and a 1,600 calorie day.
A quick quiz helps to decide which option is best for your fitness goals.
Aside from Shakeology, all 25 of the recipes use fresh, whole food.
Like the workouts in T25, the nutrition guide is also focused on TIME. Each recipe is 5 ingredients and takes minutes to prep.
As a family that eats many vegetarian and vegan meals, I was especially pleased to find some quick, healthy meals using tempeh, quinoa, lentils and homemade dressings.
What were my results from Focus T25?
I was very pleased with my results from T25.
Although I did not lose a significant amount of weight, my body was much more toned after completing the program.
I had especially good results in my abdominals.
More than that, I STUCK WITH IT and finished the program. This is the first series of videos that I have ever completed.
It was quick, motivating and gave me results.
Looking back, I now wish I would have taken a before and after photo and measured my results more accurately.
I would have liked a 'Nailed It' t-shirt.
If you wanna learn more, check out the Focus T25 Beachbody Promotional Video