Dailyburn is a leading streaming video workout program.  I tested it out and love it.
Here's my in-depth Dailyburn review.
---
During the start of 2015 I was looking for a new workout.
I have always had more success working out at home.  It's just so darn convenient to run to my basement and get it done.  No wasted time driving to the fitness center.   I have no excuse when it just requires a trip to the basement.
So, I was looking for something that was convenient, flexible and fresh.
I wanted a new "personal trainer" in my basement.   Someone to take the place of the old trainers I've been working out with for years.
Sorry Tony.  Sorry Tyler.
You've been great, but it's time for me to move on.  Nothing personal.   This is not a complete break up.  I'm sure I'll dust off P90X3 and CT-50 in the future.
These programs have been great to me.
Just like my wife and I dust off our collection of West Wing DVDs to re-run every year, I'm sure I'll be back.
But now it's time for a change.
After a quick search, I found Dailyburn and jumped in to see what it was all about.  There are 8 personal trainers for Dailyburn online and even more if you chose to do 1 on 1 coaching.
One of the trainers for Dailyburn is Bob Harper of the TV show The Biggest Loser.
Just like the rest of America, I loved Bob from Biggest Looser. He has a workout program through Dailyburn called Black Fire that looked new and edgy.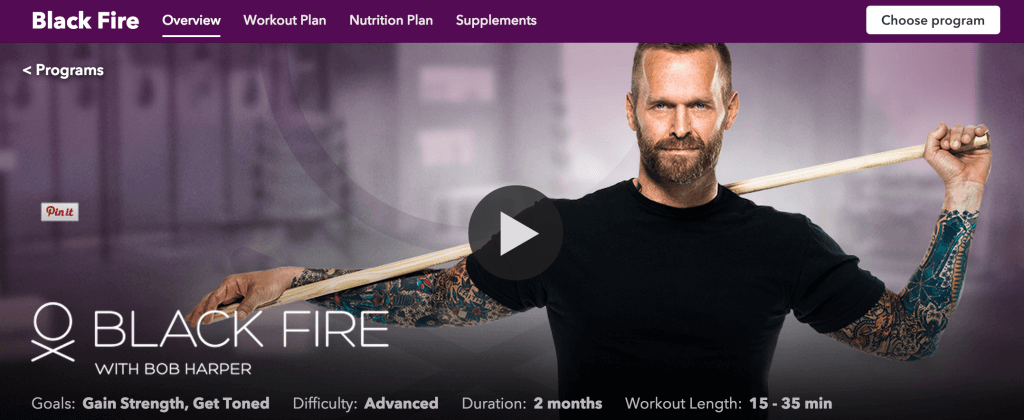 Dailyburn also has professional bodybuilder and model Ben Booker with his program Live to Fail where he teaches you on how to use simple weightlifting techniques and only 2 dumbells to build muscle.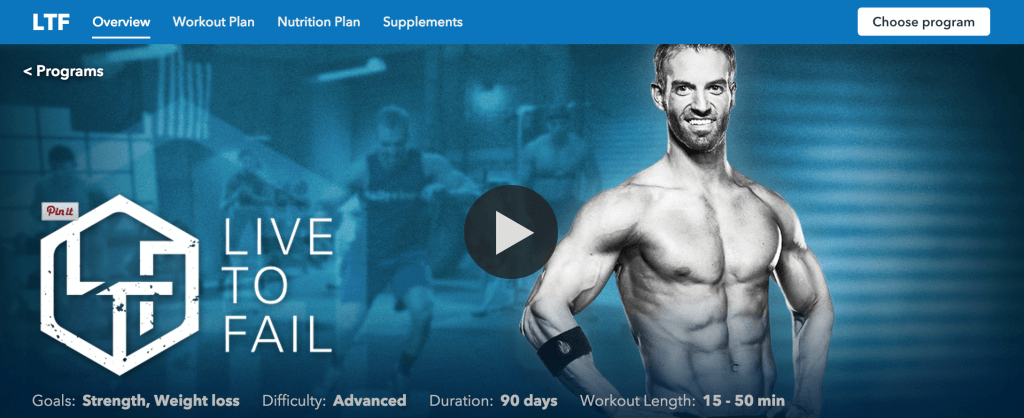 Both of these programs seemed intriguing to me and tempted me to sign up.
There is also Yoga, which I wanted to continue learning about after P90X introduced me to this body-bending exercise.  Yoga has completely improved my balance and I hope helps my joints stay healthy.  I intend to research Yoga benefits in the future to know for sure.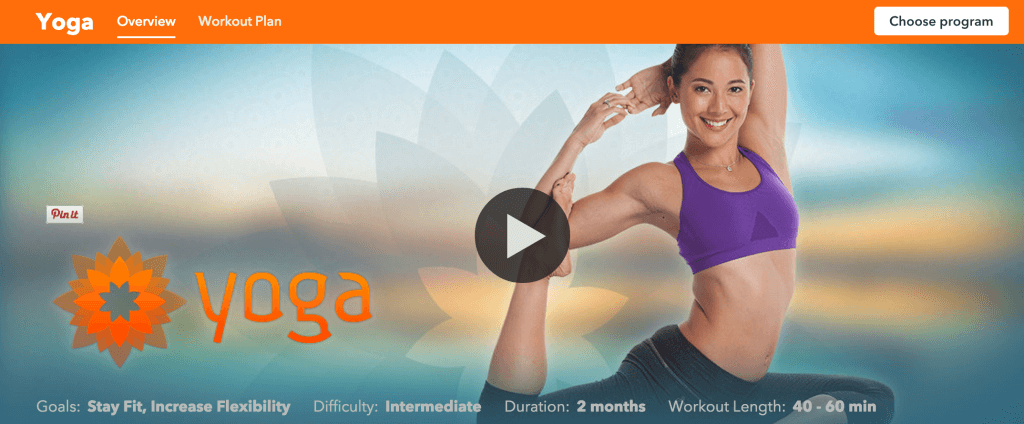 I was probably most excited about the True Beginner workout with Justin Rubin because it has the potential to help the most people.
Most fitness programs fail to give you a solid base for the beginners.  They just start out hard and torch you, leaving you injured and demoralized.  This program is a gentle start for anyone who needs to just get started.  Strength and movement 101.  Maybe you've been injured, are more mature in age or just need to get off the couch.  I've tested out True Beginner and love it.
Dailyburn also numerous intermediate to advanced cardio and "metabolic conditioning" workouts from Anja Garcia among other trainers.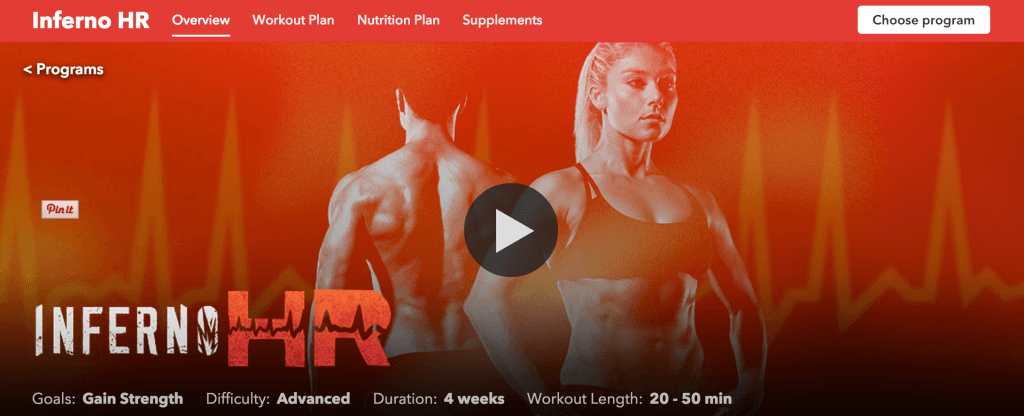 Looking for a Kettlebell workout?  How 'bout a bodyweight only workout program.  Yeah, Dailyburn's got those too.
Dailyburn simply has a mind-blowing variety of workout programs that seemed to be well-worth the free 30 day trial.  If I remained signed-up after the trial period, I felt even the $12.95 monthly subscription fee would be completely worth it.
So, now I'm now a Dailyburn enthusiast and have 8 more "personal trainers" in my basement.
The Pros and Cons of Dailyburn
Pros
Many high-profile, expert trainers to learn from
Great variety of programs with something for everyone
High quality videos available in High Definition
Inexpensive monthly subscription price
Available on multiple internet connected devices (i.e iPad, android phone, Kindle fire TV, chromecast, etc)
Minimum equipment needed
Free 30 day trial
1 on 1 coaching is available as an upgrade
Cons
Nutrition program is not comprehensive
No DVDs (though some would consider this a pro)
An internet connection is required (you cannot download the videos for later offline viewing)
What is Dailyburn?
Dailyburn is an online streaming video workout program.  It offers 14 programs that range from beginner to advanced as well as 1 on 1 coaching and nutrition advice.
The workouts programs are diverse ranging from basic movements for the beginner to intense cardio circuit full body workouts, dancing, kettlebell workouts, yoga, pilates and weight lifting.
A little something for everyone.
The workouts are led by expert trainers and streamed on-demand, in HD-quality videos, to your computer, smart TV or anywhere there's an internet connection.
Available 24/7/365.
Need to workout at 2 am?  This is your program.  Stream it anytime, anywhere.
Who are the Dailyburn Trainers?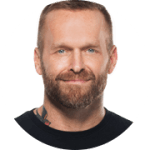 Bob Harper – You know him.  That loveable trainer from The Biggest Looser TV show.  What's not to love.  He'll give you the tough love you need in a trainer.  He has the one of Dailyburn's newest programs called Blackfire.  Bob appears to be active on Twitter.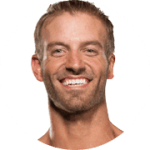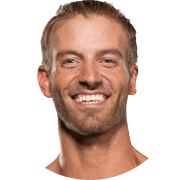 Ben Booker -Total stud and genuine guy.  He was bedridden for months after a car wreck and fought through this to become an award winning bodybuilder and model.  His program Live to Fail will bring your muscles to failure to make them adapt and shape up.  He's active on facebook.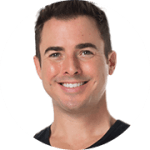 Justin Rubin – Another genuine guy at Dailyburn.  He holds a black belt in Shotokan karate and you can see this influence in the True Beginner program.  He is a genuinely positive in this program and wants you to succeed by understanding the basics of movement.  Justin's on Twitter and Facebook.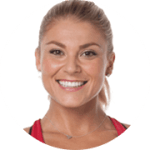 Anja Garcia – Anja is a former gymnast and fitness expert.  She is also a registered pediatric ICU nurse.  She is sweet and tough and will work you over.  She will push you heavily in Inferno and Inferno HR.  Her website is anjagarcia.com.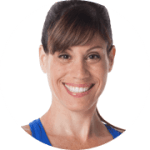 Judi Brown – Judi runs marathons, hikes, dances and will keep you moving your body.  She is an A.C.E. certified personal trainer and wellness specialist. She helps to get your heart rate up in Cardio Sculpt and DB15.  She can be found at judibrownfitness.com.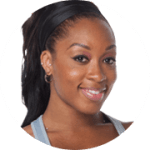 Keaira LaShae – Keaira is from Tampa and specializes in kickboxing and is a dancer and singer.  Her work can be found at keairalashae.com.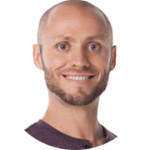 Cody Storey – Cody is a former professional snowboarder.  He is a kettle bell specialist, a certified in circular strength training as well as a tactical fitness coach.  He can be found at Storey Fitness in LA.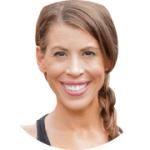 Andrea Speir – Is a Pilates expert and is your trainer for Pilates Phase One. Andrea has a background as a dancer and has a comprehensive Pilates certification through Power Pilates in New York City.  She can be found at andreaspeirpilates.com.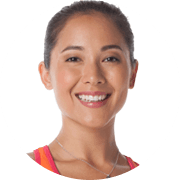 Briohny Smyth -Briohny specializes in Yoga and is your trainer for the Dailyburn Yoga program.  Her moves are viewed by millions on Youtube.  She can be found at bryceyoga.com.
What are the Payment Options?
The plans are extremely reasonable.  I started the 30 day free trial and am doing the monthly subscription rate of $12.95.  You can also choose to upgrade to 1 on 1 coaching and personal guidance for $27.95 per month.  A yearly plan saves you a bit of money for each of these if you want that option ($119.95 and $239.95).
The account settings are very clear.  Within the account settings you can change your billing information and cancel your plan.  It clearly states the date the free trial ends.  I will attempt to cancel before the free trial to make sure this works.  Companies can have shady policies to attempt to bill people despite canceling during the free trial period.  I will test this out.
How are the Quality of the Videos?
This is what is so impressive with Dailyburn, the programs are high quality.  The videos are HD quality.
This is obviously a high quality product.  The videos are modern and well produced.  Even the clothes the participants are wearing is hip and makes me want to go shop and update my wardrobe.  I thought about pulling my socks up over my calves, but didn't feel I could pull it off.      
How can you watch the videos?
Whether you like it or not, gone are the days of the DVD.  Well not really.  You can still get DVD Home Workout Videos, just not with Dailyburn.  All of the videos are online.   
However, there are numerous options for watching the videos. 
I typically watch them on my mac laptop computer, however, the videos can be screen casted quite easily to your TV. 
You can watch the videos anywhere there is an internet connection. 
Here are some options:
Personal computer

iPad

iPhone

Android smartphones

Google Chromecast

Roku TV

Apple TV

Amazon Fire TV

Google TV

Samsung Smart TV

Microsoft Xbox 360

Sony Playstation 3

Stream to your TV
Most TVs are now "smart" enough to handle some streaming for you with assistance form one of the above devices and if not you you have a great excuse to upgrade your TV.
The Dailyburn App Review
Dailyburn is not only available on your computer and streaming to your TV, but also as an app on iTunes for apple products and google android.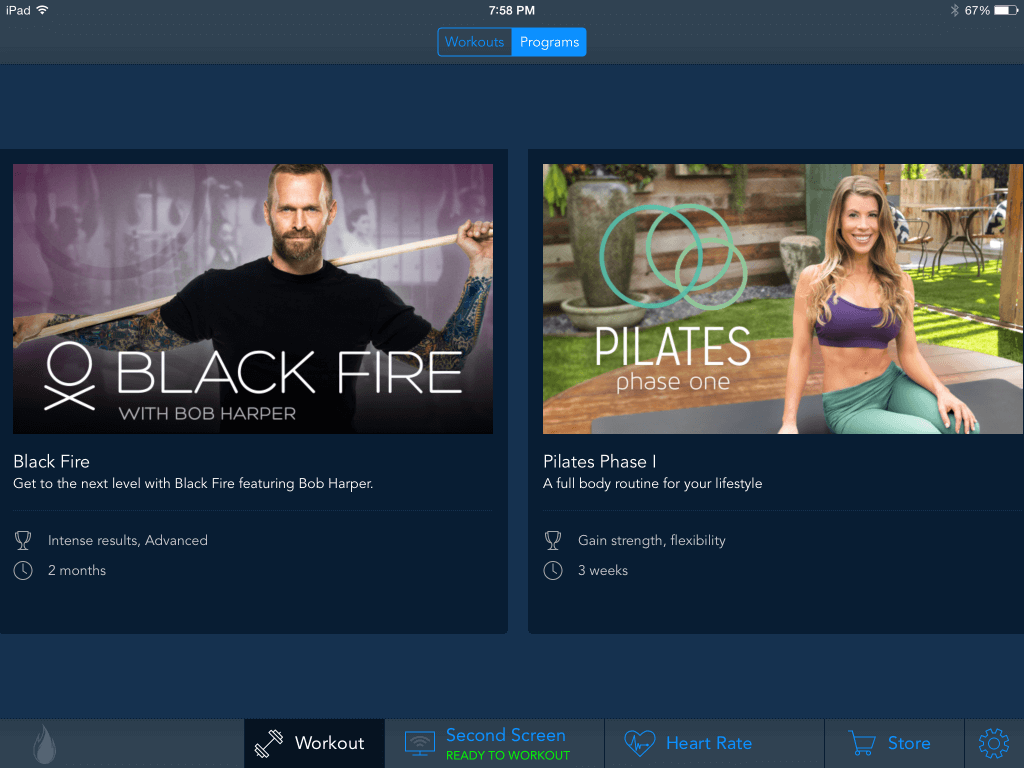 I own a houseful of Macs (iPhones, iPads, 2 Macbooks and an iMac).  So, I tried out the iTunes mac application on my iPad to see how she works.
The iTune app on my iPad was extremely easy to navigate.  All of the workout programs were there and easily accessible.  I logged in with my current account without a glitch.  It even loaded my current workout data such as how many calories I burned.
The video quality seemed just fine.  There was no glitch in the streaming over my internet connection.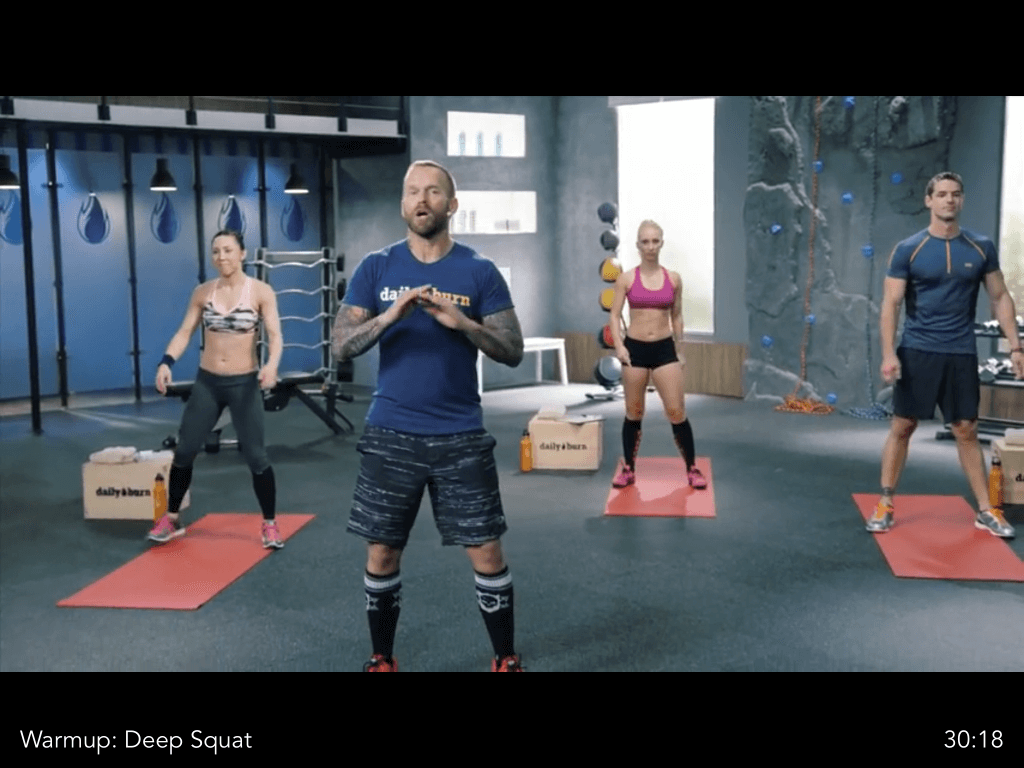 One nice feature was the availability to pair the application to a heart rate monitor, which I don't have so was unable to test out.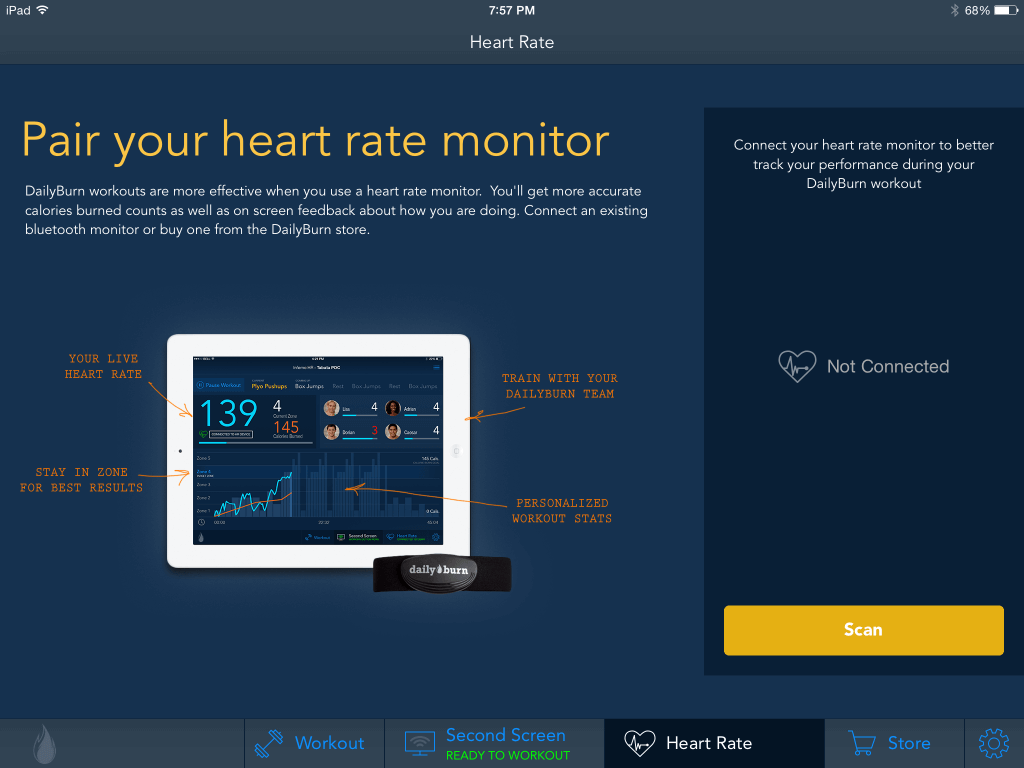 There's even the option to check out the Dailyburn store through the app to buy more stuff.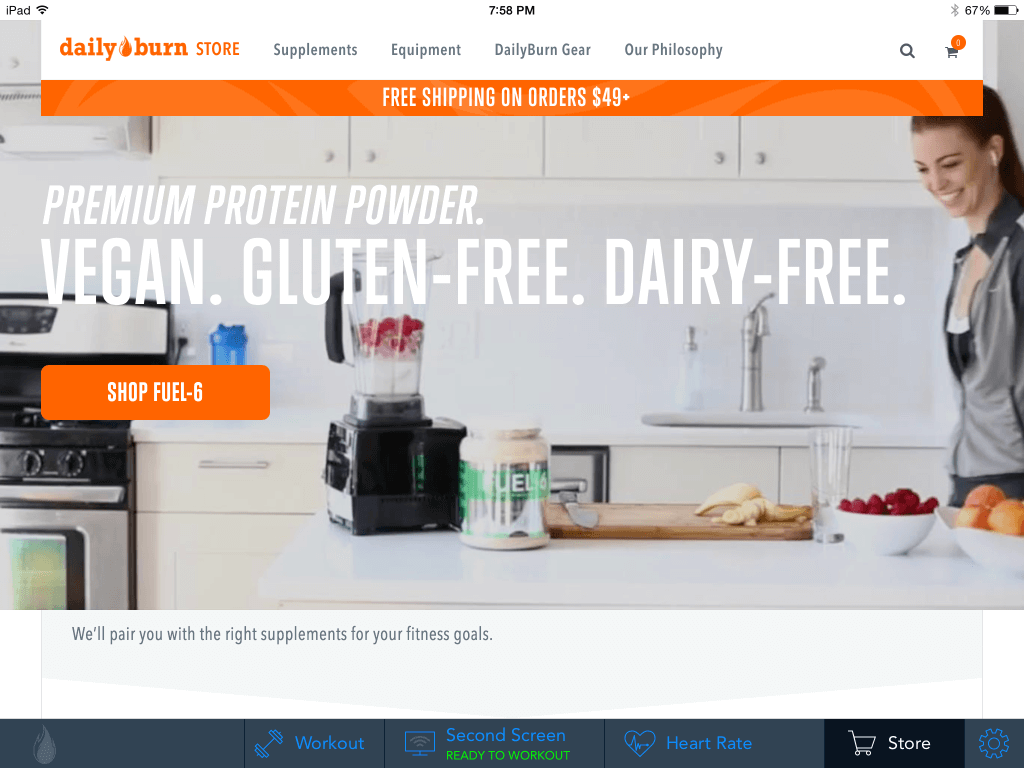 The iTunes app gets 4 stars with over 1000 reviews.  Not bad.  Some of the reviewers had casting issues where this was not working for Chromecast.  I was unable to test this because I don't have Chromecast.
What equipment do you need?
That totally depends on the workout.  Nothing crazy.  Some programs such as True Beginner requires nothing but a mat and a chair.  Others require a dumbell or two, a kettlebell for DBT, but most just require you and about 30 minutes of your time.
The Dailyburn Heart Rate Monitor
I do not yet own the Dailyburn Heart Rate Monitor.  I am considering it, but do not feel it is absolutely necessary to get a great workout. Having completed many of the workouts I can tell you that simply showing up and doing them will get your heart rate up.  If you want to get serious about this you can certainly get the heart rate monitor and you'll get the information you need to know if you are maxing out your heart rate.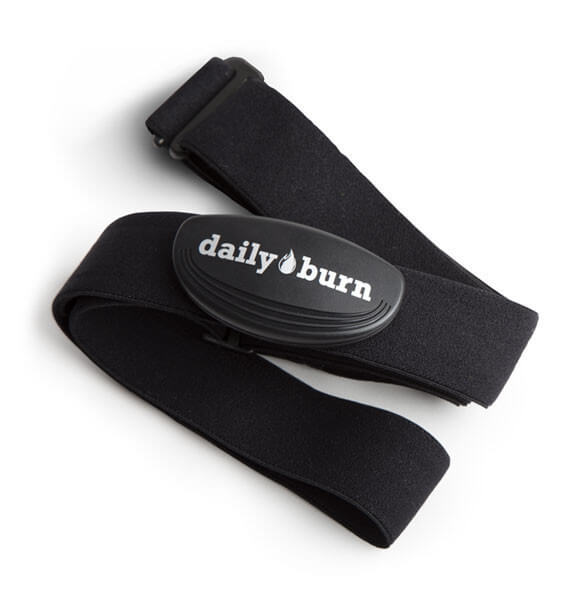 The one reason I am considering this device is that it streams the heart rate data directly to the iPad app.  This would allow you to watch your heart rate directly as you workout.  That alone sounds pretty sweet.  The price is only $45 for the monitor.  It does not appear to be compatible with other services, so you may be stuck with only using this with Dailyburn.  It still maybe worth it.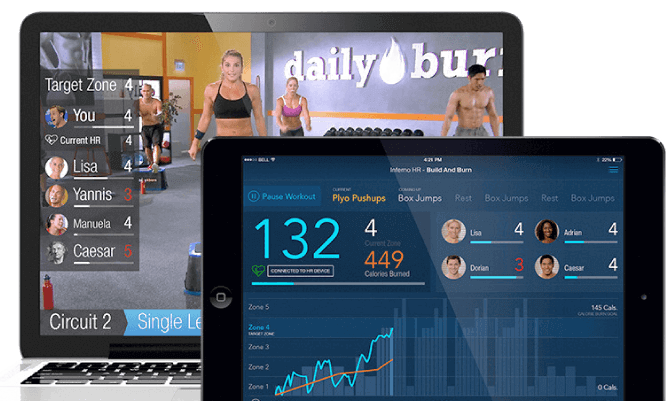 The Dailyburn Nutrition Plan
The nutrition program is fine and gives some good, basic advice.  The sample meal plans seem just fine, but I did not have a chance to try any of the recipes.
The nutrition plan is not terribly comprehensive.  No cookbooks or cooking videos.
I would not buy Dailyburn for the nutrition program.  There are better options out there and even some blogs that are very good.  My wife and I love Oh She Glows for vegan inspired meals.
Dailyburn nutrition plan in a nutshell:
Eat real whole foods like vegetables, fruits, legumes, etc.
Eat good sources of protein.
Eat low glycemic index foods and avoid starchy foods like breads, pastas and sugary snacks.
Eat modest amounts of healthy fats.
Eat every 2-4 hours to avoid crashing (this advice is debatable).
Use there supplements.  I disagree with this.  Just stick to the whole foods.  Supplements are not needed and may even be harmful.
What are others saying about Dailyburn?
"If you're interested in daily programs (think P90x) designed to slim you down quickly and build muscle, then DailyBurn is the place to go." – Mashable
One Amazon reviewer notes:
DB's goal is to bring you fitness at your own individual level. These are NOT necessarily the `killer' workouts that you may find in other commercial productions. It seems that these days every company is trying to outdo each other with `the' workout series that will either make you ripped or put you in the hospital. DB has a different philosophy–they want you to work hard at your own level and progress rationally. No kill-you-dead attitude.

That's not to say that these programs are easy. They are challenging but not meant to put you out of commission. Instead, they make programs that are rewarding and that you will look forward to doing every day. And if you follow the program you will most certainly lose weight and put on some muscle. For the most part, this is not `extreme fitness' but it is excellent fitness nonetheless.
The Dailyburn TV ad
I came across this Dailyburn TV add during my research of the program and thought I'd share it here.  Yeah, it's a bit funny and sums up Dailyburn quite nicely.  Check it out.
What are the Dailyburn Workouts?
There are 18 Dailyburn programs.  This is a mouth-dropping number of workouts.  Some of the  workouts last months.  You literally have years of potential workouts you could do.  The variety is astounding.  From beginner to advanced.  From Pilates to major kettlebells. 
There is something for everyone.  This is why I am so excited about Dailyburn.  If you like home workouts – than this is for you.  You hit the jackpot.  I could not believe the value that you receive for the money.   
Here's the list of all the workouts:
Cardio Sculpt

True Beginner

Black Fire with Bob Harper

Live to Fail

TBT

Inferno

Pilates Phase One

Pilates Phase Two

Move

IntelliBurn

Core

Yoga

Recover

Total Cardio

Inferno HR

DBK

Beautiful Belly
[adsanity id=3551 align=alignnone /]
Dailyburn True Beginner Review
Are you unfit, overweight, obese, untrained, injured and in need of getting your body moving again?
Dailyburn True Beginner is the workout for you. 
This program is exciting.  Most of the current commercial workouts overlook the beginner – those that need to mover their bodies the most, the unfit and overweight who are looking for something that is truly a starter workout. 
Something to ease into. 
True Beginner is for the novice, and acts as a starting point to create a strong foundation to build on. 
This is what True Beginner has to offer and why I am so excited about this program from Dailyburn.  True  Beginner fills this gap in the workout program stratosphere. 
The goal of True Beginner is to help beginners start to move their bodies and lose weight. The program is over 8 weeks and workouts are between 15-30 minutes.  The only equipment you will need is an exercise mat and maybe a chair for balance.  
Your trainer for this program is Justin Rubin who has a 2nd degree black belt in Shotokan karate.   I could feel the karate essence throughout the program, which I enjoyed.
The workout occurs over 8 weeks and is divided into 3 phases. 
Phase 1: Building phase where you develop a solid base.
Phase 2: Increased intensity of the workouts.
Phase 3: Adds on agility with cardio kickboxing and Shotokan karate.
There are 10 workouts and 2 rest day mobility workouts.
Dailyburn Black Fire with Bob harper Review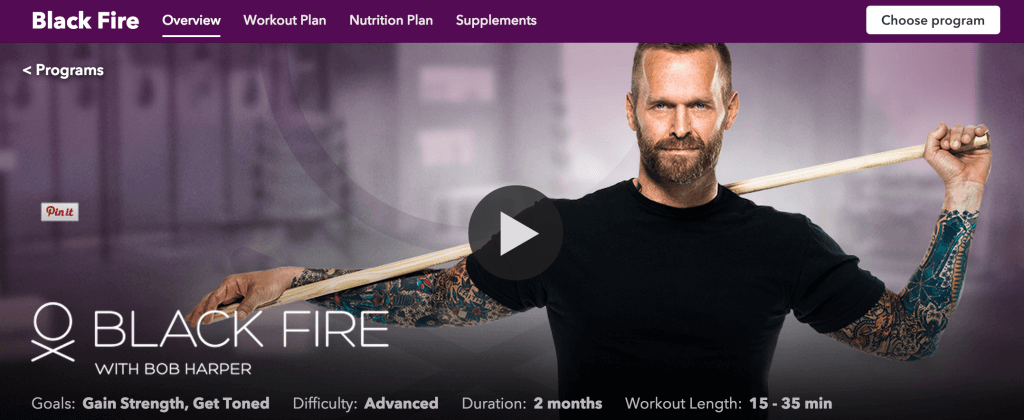 This is one of the programs that I was most excited about when I came across Dailyburn.  I'm a big fan of Bob Harper from the the TV show The Biggest Loser.  His attitude is always positive with nothing but tough love for the participants.  He epitomizes the trainer that is part psychologist, part coach and genuine friend.   
What I love most is Black Fire's simplicity and intensity. 
Blackfire is a 60 day program that focuses on full-body exercises.  Blackfire combines strength, endurance, power, balance, core, and recovery.   The intense workout portion of each workout is meant to be only 20 minutes.  With warm-up and cool down you'll be working out for 15-35 minutes.
Since this is one of the three programs I've been able to trial I've reviewed it in more detail.
Related: Dailyburn Blackfire Review
Dailyburn Live to Fail Review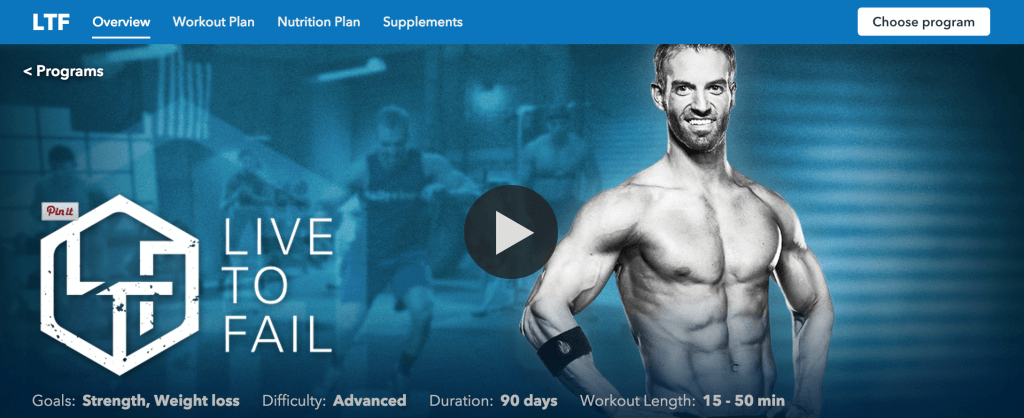 The claim: only 2 sets of light hand weights, a box and 90 days to lean muscle. 
The myth is that you need heavy weights to build lean muscle mass.  Ben Booker thinks otherwise.  In only 90 days he shows you how to Live to Fail.  Failure is critical to make physiological change.  Failure is what triggers the muscle to grow.  This is muscle failure. 
Your trainer for this one is professional bodybuilder and fitness expert Ben Booker.  Ben was in an accident that left him bedridden, but came back from this to where he is today.   
The goals  for this program is simple: add muscle, strength and lose fat. 
This is a program intended for the advanced, but I don't see why almost anyone couldn't try it.  Ben Booker shows you how to test yourself to figure out what your weights should be.  If you are less fit, you would just use lighter weights.  The workouts themselves are tough, but simple.  I think this program would be great for even some beginners.  Maybe the next step from True Beginner.
The prgram last 90 days and workouts are beteween 15-50 minutes
The program is broken into 2 phases.
Phase 1: Strength
Phase 2: Supersets.
Live to Fail is the program I am currently working on and lovin' it.  My legs are sore as I type this from his "Pillars of Strength" workout.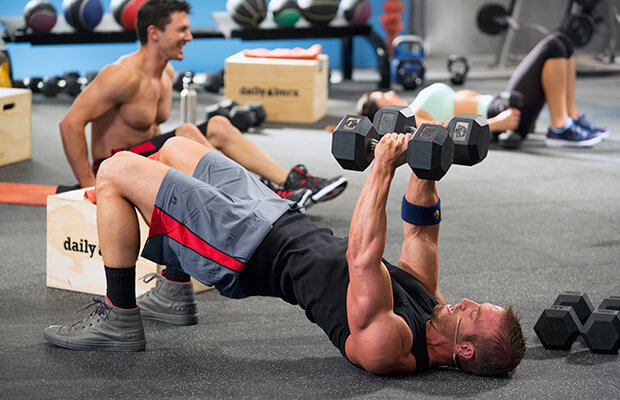 Dailyburn TBT Overview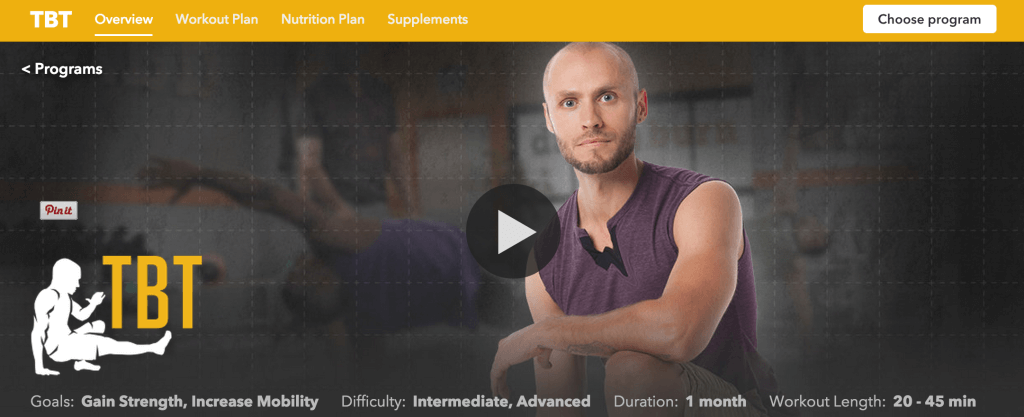 TBT is Tactical Bodyweight Training designed by Cody Storey to improve how your body performs through dynamic, bodyweight movements. The workout utilizes "metabolic conditioning." The goal of TBT is to gain strength but also increase mobility.  TBT is a 28 day program meant to improve how your body functions utilizing bodyweight exercises.

Dailyburn Cardio Sculpt Overview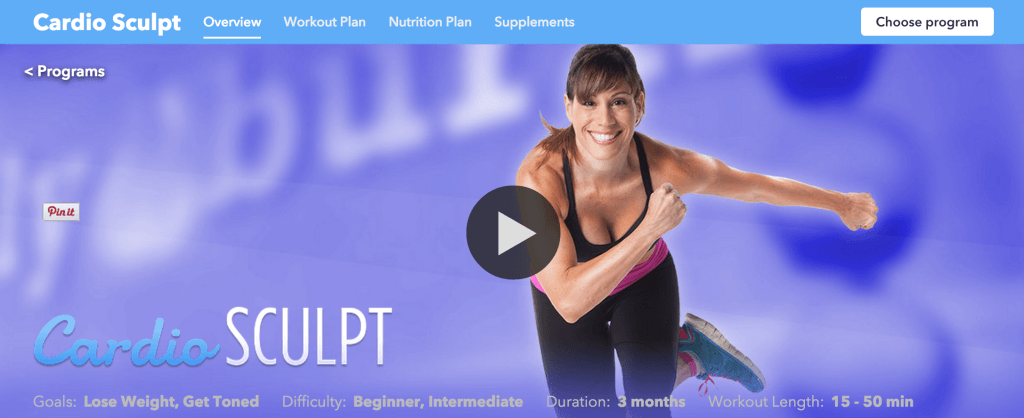 Cardio Sculpt is meant to tone. 
This is a 3 month program with 5 trainers and 12 different workouts.  The program is 5 days a week with with 2 rest days in the first month and then Yoga is later added on the off days. 
The workouts are 15-30 minutes long on average as advertised, but range from 10 up to 52 minutes.  The difficulty is easy to medium.  
The equipment needed are steps, a yoga mat, a dumbell, medicine ball, and a pull-up bar.
Dailyburn Inferno Overview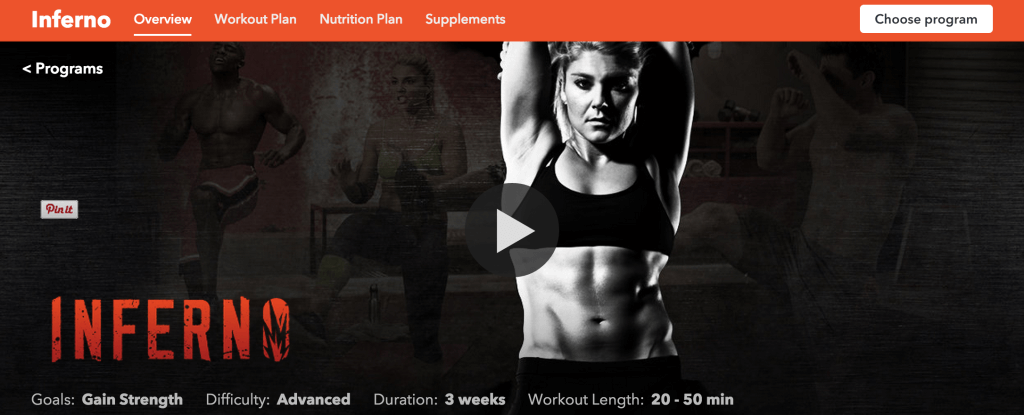 Daily Inferno is a 21 day challenge to push yourself.  The program is meant to be short, tough and efficient that combines strength with intense cardio. 
This program is not for the beginner.
The program lasts only 3 weeks with no days off!  You do get active recovery days where you'll do mobility exercises and Yoga.  Each workout is under an hour long.  
Get ready to sweat.
Dailyburn DB15 Overview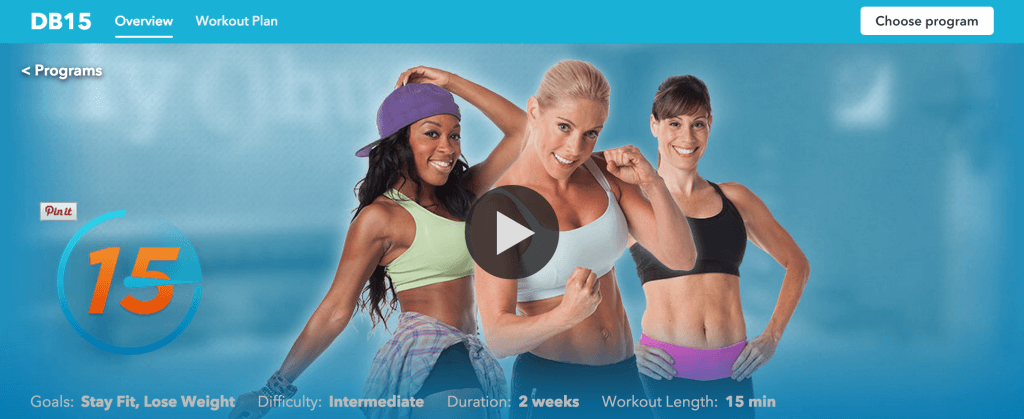 DB15 is short.  The workouts are only 15 minutes and the total program length is only 15 days.
DB15 is meant for anyone.  The program offers easy to advanced options. DB15 offers a potpourri of workouts from Break Dancing to Tabata circuits.       
Dailyburn Pilates Phase One Overview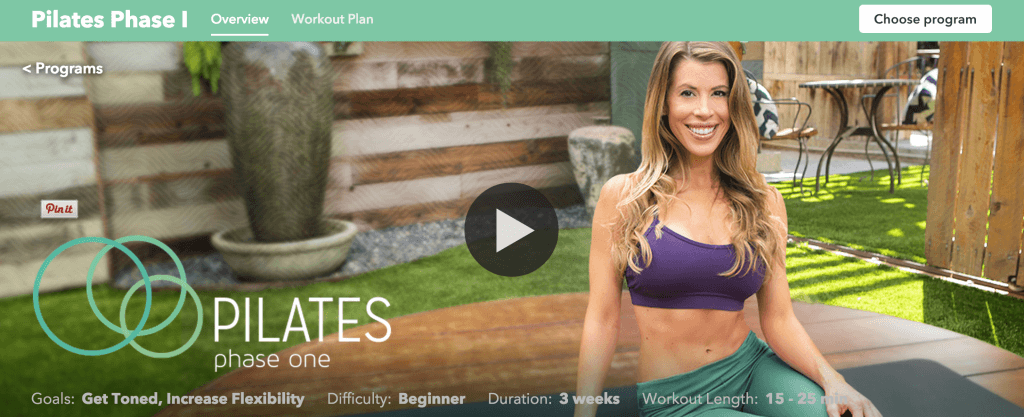 Pilates phase one is a 16 day Pilates program.  The philosophy of Pilates is that the core is the foundation of all strength.  Andrea Speir will teach you the fundamentals of Pilates so that you can keep you core strong.  The Pilates phase one program can accommodate beginners to advanced.  Workouts are 15-25 minutes long.
Dailyburn Move Overview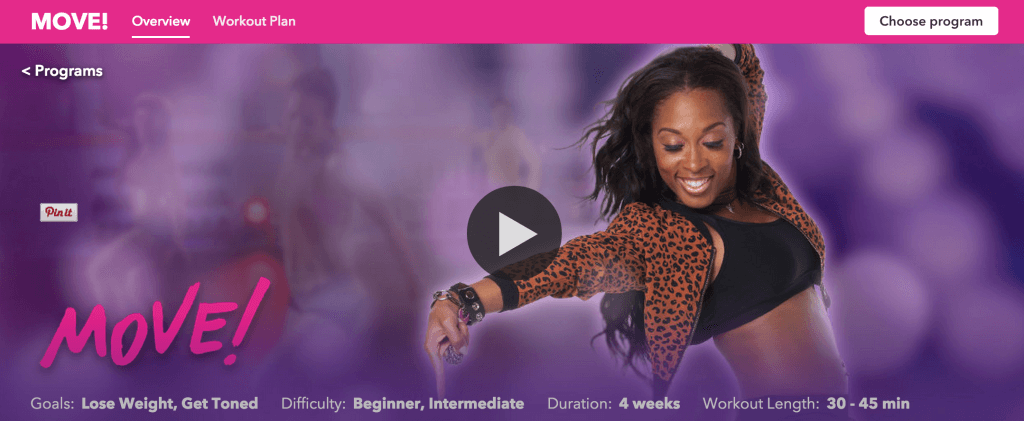 Keaira LaShae is a singer and dancer that with get you fit with dance.  Over 5 weeks you'll learn to dance Bollywood, African, Latin, 90's Hip Hop, Caribbean, and Night Club style.  Have fun getting fit and learn to dance.
Get ready to Move!
Dailyburn IntelliBurn Overview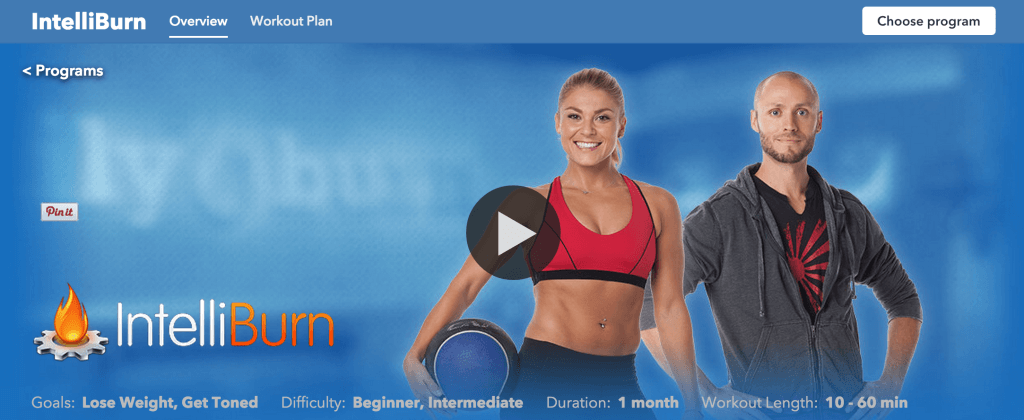 Dailyburn intelliburn is a compilation of workouts from all of the programs.  Workout over 5 weeks with all different trainers and styles.
Dailyburn Core Overview
Core is a 2 week program for the abs, low back and hips.  There are 5 workouts: Quick Core, Pilates, Animal Core, Intense Abs and Strength Recovery Yoga that guide you to a stronger core.  Workouts range from 15-47 minutes.
Dailyburn Yoga Overview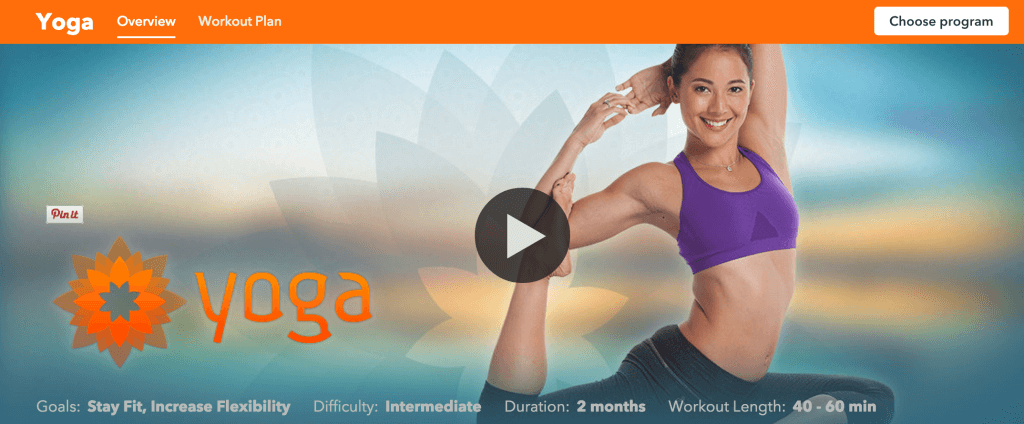 Briohny Smyth is an expert and sought after Yogi.  The Dailyburn Yoga program is 7 weeks long and meant for anyone from beginners to advanced.
Dailyburn Recover Overview
This is a collection of Dailyburn Yoga and mobility exercises for recovery.
Dailyburn Total Cardio Overview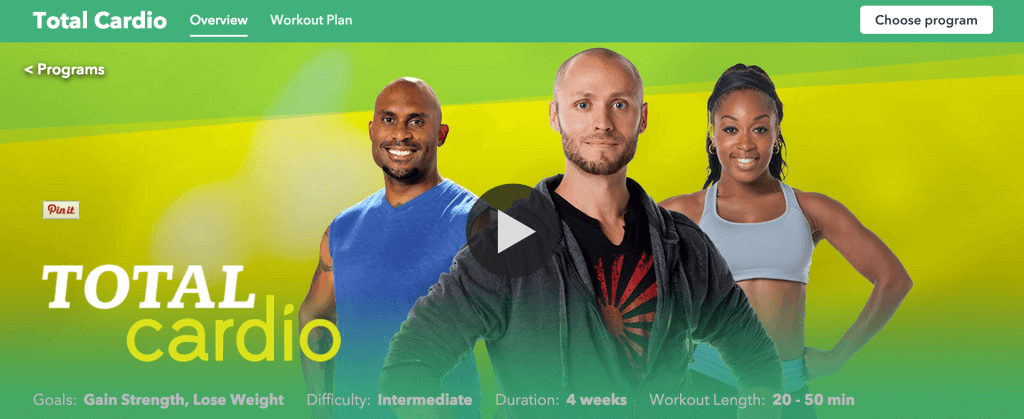 Total Cardio is a 28 day cardio program that utilizes a variety of Dailyburn workouts.
Dailyburn Inferno HR Overview
Inferno HR is a 28 day program that utilizes the Dailyburn Heart Rate Monitor to track you hear rate throughout the program.  You also get to see the stage participants heart rate as well as you workout together.  This will allow you to get a more accurate number of calories burned.
Dailyburn DBK Overview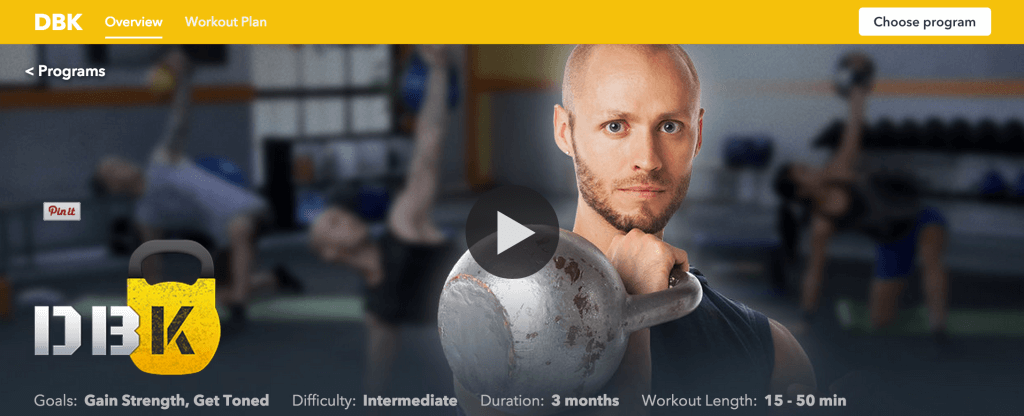 DailyBurn Kettlebells is a ballistic conditioning training program using kettlebells.  Cody Storey guides you from beginner to advanced kettlebell maneuvers.
Dailyburn Beautifull Belly Overview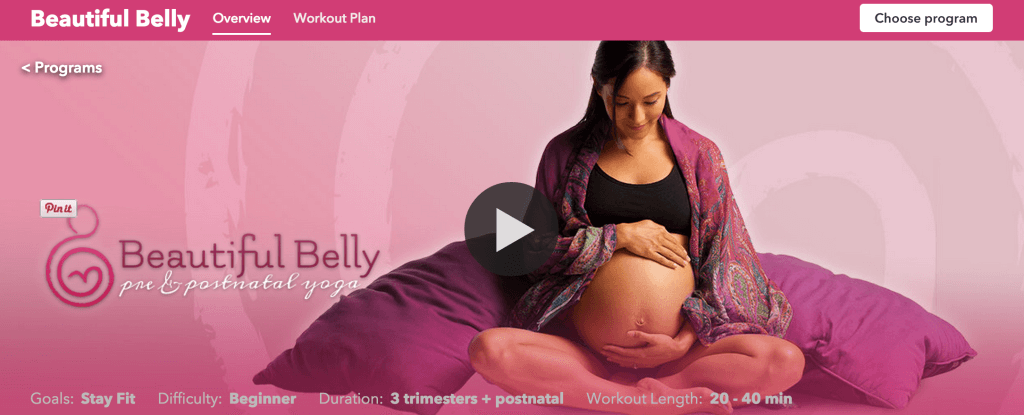 Briohny Smyth leads you through Yoga for pre and postnatal moms.
If you're interested in Dailyburn I would suggest you just take the plunge and sign-up for the free 30-day trial and see for yourself.  I think this program offers a ton of value for the small subscription price.