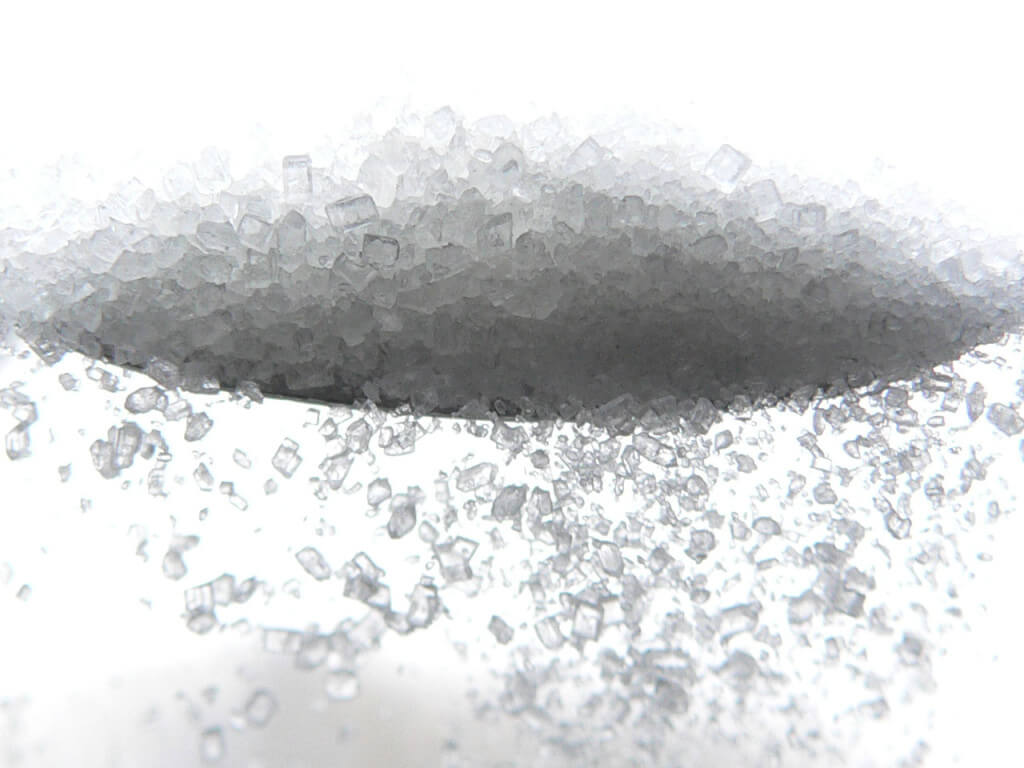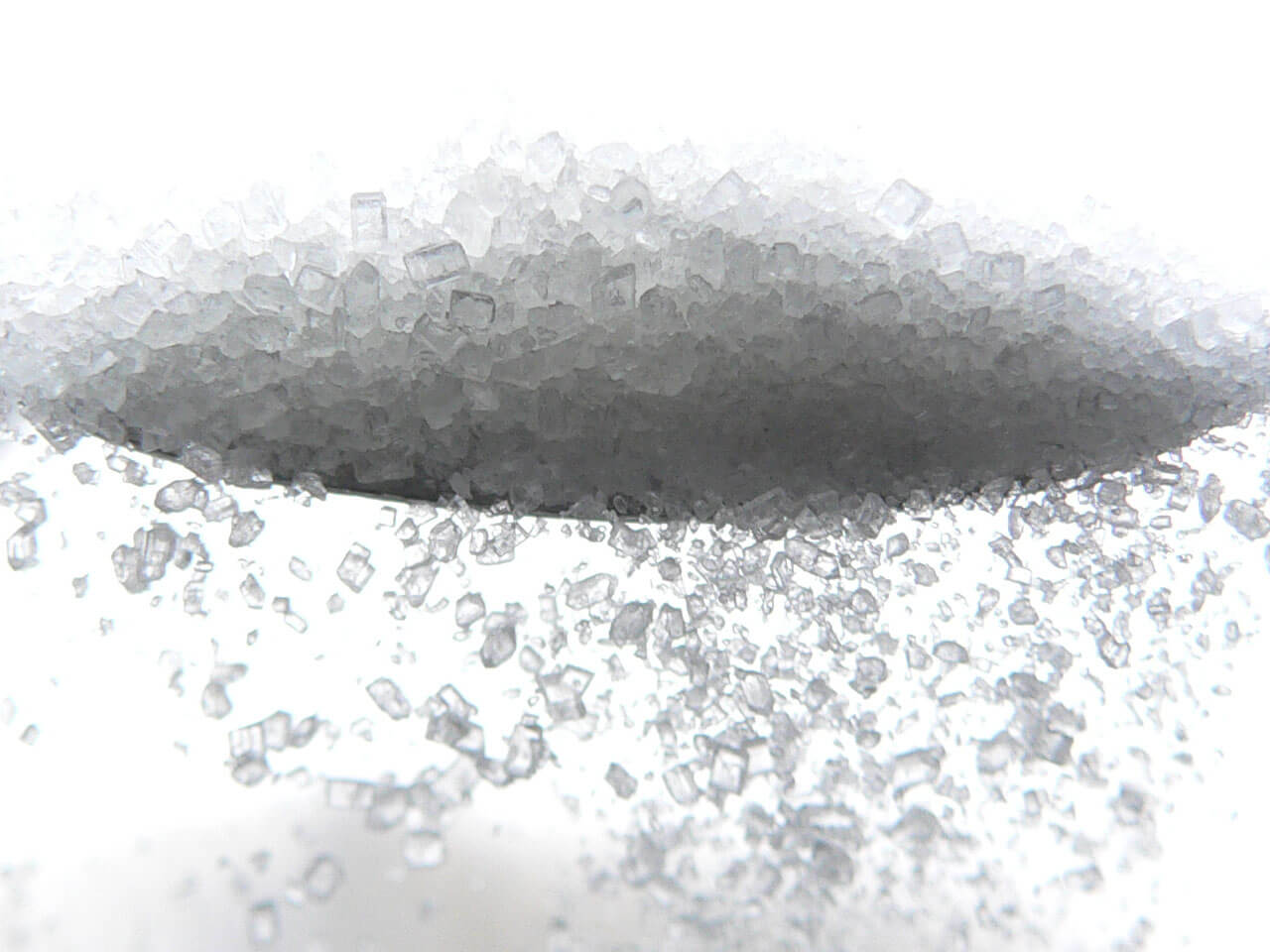 Sugar in your food is making you fat.
I see it all the time.
A patient comes to see me in clinic and we discuss their diet.   They are oblivious to some of the most common sugary foods that are making them fat and sick with diabetes.
In this article we'll go over 9 of these most common sugary foods tripping up my patients.
We'll also cover 14 healthy low sugar food alternatives to help you lose weight and prevent diabetes.   
These low sugar tips and tricks are from my experience helping patients to lower their sugar intake, but also from my wife . . . our families nutritional gatekeeper.   
She keeps our family healthy and mostly sugar free.   
Get the Sugar Detox Cheat Sheet
I've created a cheat sheet to help lower your sugar intake.  It's FREE and lists 19 common sugary foods making you fat and 39 low sugar alternatives for a quick and easy reference
As a sugar reference, the World Health Organization now recommends only 10% of calories come from added sugar and strongly consider going as low as 5%.
This is about 25 grams (6 teaspoons) per day for the average person, which is consistent with guidelines from the American Heart Association.
1. Breakfast cereal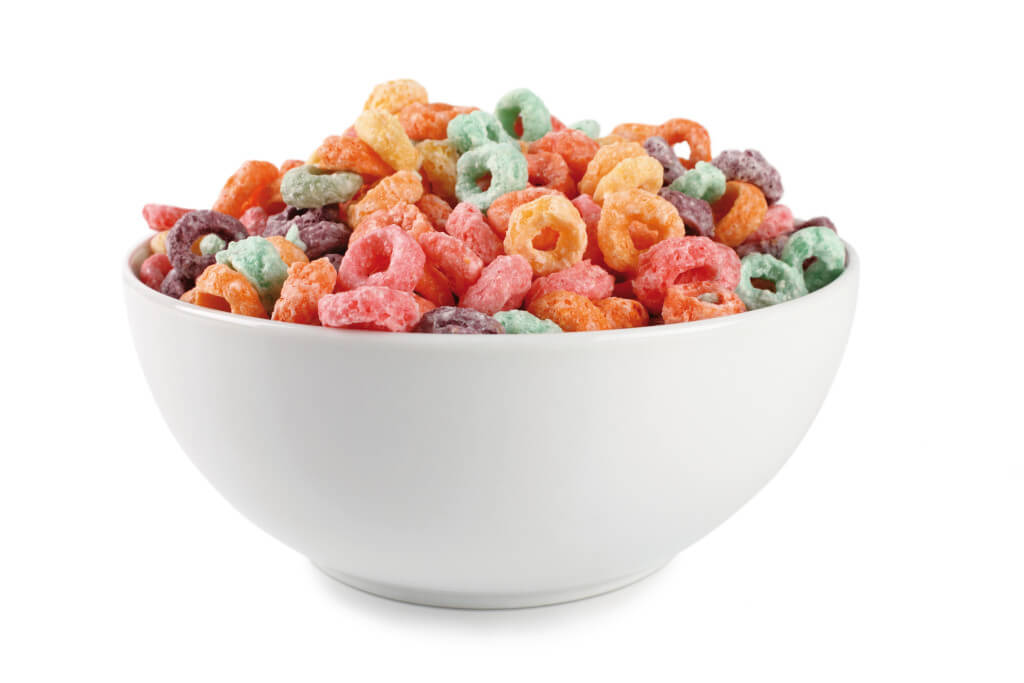 Breakfast cereal is sugar-laden.  It's fortified with vitamins and minerals for the illusion of health.
Take Fruit Loops for example – a food-like substance I grew up on.
Based on data from the USDA, 1 cup of Fruit Loops carries a full 12 grams of sugar.
This makes Fruit Loops 41% sugar by weight . . . no kidding.  
[adsanity id=3414 align=aligncenter /]
How about the breakfast of champions?
Sugar is second on the ingredient the list followed followed closely by "corn syrup" –  another sugar.
There are 4 grams of sugar per serving.  A serving is 3/4 cup . . . who eats a 3/4 cup of cereal?
Let's not forget the 16 grams of "other carbohydrate."
You can begin to see why Wheaties is a sugary flake "fortified" with vitamins and minerals.
My childhood favorite, Cinnamon Toast Crunch, is just as bad with 9 grams of sugar in 3/4 cup.
[adsanity id=3349 align=aligncenter /]
Sugar is high on the list followed by fructose, maltodextrin and dextrose.
All are added sugars.
Maltodextrin, for instance, is produced from starch and has a glycemic index of 85-100 – as high as table sugar.
Let's take a cereal "branded" as healthy: Kellogg's Smart Start Strong Heart Antioxidants.
Truly a healthy cereal name if I've seen one.
The sugar content, however, is not healthy – 14 grams of sugar in a single cup.
It's quite an irony that breakfast cereals were created in the 1860's by John Harvey Kellogg and others with the intent to cure such ailments as constipation, "consumption," malaria and even marketed as a "brain food."
[adsanity id=2529 align=aligncenter /]
The Guardian article on this topic, Drop that spoon! The truth about breakfast cereals, is a must read.
Here's an excerpt:
The Kellogg brothers argued over whether to make the cereals more palatable by adding sugar – the addition was anathema to John who saw sugar as an adulterant and a scourge, but William reckoned it was needed to stop the products tasting like 'horse-food'.

WK won.
The article was an extraction from Eat Your Heart Out: Why the food business is bad for the planet and your health by Felicity Lawrence.
Want a better breakfast?  Here are several better options. 
It's ok to eat fruits for breakfast.  Heck, eat raw vegetables.  Have snap peas and carrots with a healthy dip or hummus.
[adsanity id=2529 align=aligncenter /]
It's common in Europe to eat tomatoes and cucumbers for breakfast.  Why not?
In our family we eat vegetables, heated up with a sweet potato scrambler or eggs.  My wife also prepares overnight oats.
Here are two more options for you:
2. Potato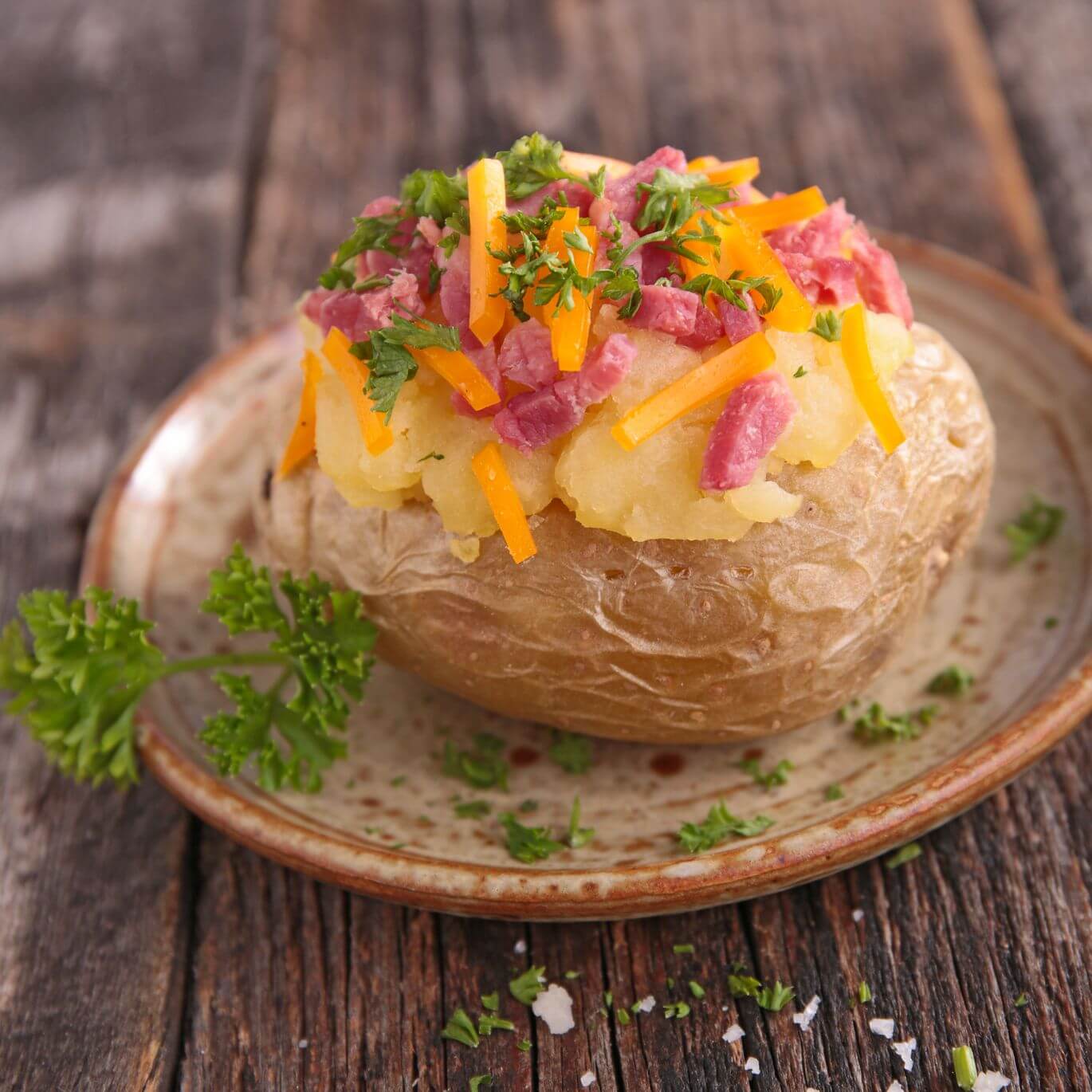 The white potato is more sugary than sugar on the glycemic index.
Here is the Glycemic Index (GI) for some common foods.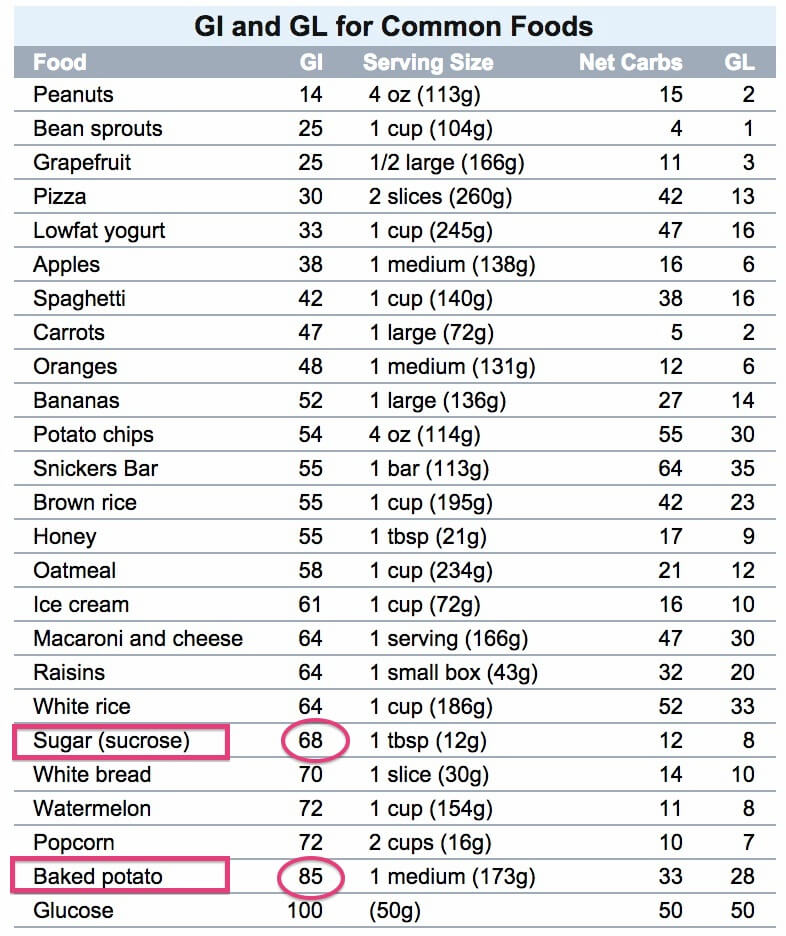 This image from self nutrition data shows that the white potato has a higher glycemic index than table sugar.
The glycemic index was developed at the University of Sydney and is a measure of how rapid a blood sugar rises after consuming a food.
The higher the glycemic index (GI) the more rapid the rise in the blood sugar for that particular food item.
The reference point is pure "blood sugar," known more technically as "glucose."  Glucose has a perfect glycemic index of 100.
[adsanity id=2529 align=aligncenter /]
So, the spud was eliminated in our household and replaced with oddly . . . the sweet potato.
The sweet potato has a glycemic index in the 40-50's range depending on how it is prepared.
The sweet potato has more fiber, which slows gastrointestinal absorption giving it the lower glycemic index.
A small improvement.
[adsanity id=3414 align=aligncenter /]
When we eat "junk food" in our household, we toss sweet potato fries into the oven.
Saute some greens . . . heat up a veggie burger (without the bun) and unsweetened ketchup and you have a low glycemic index meal.
3. Bread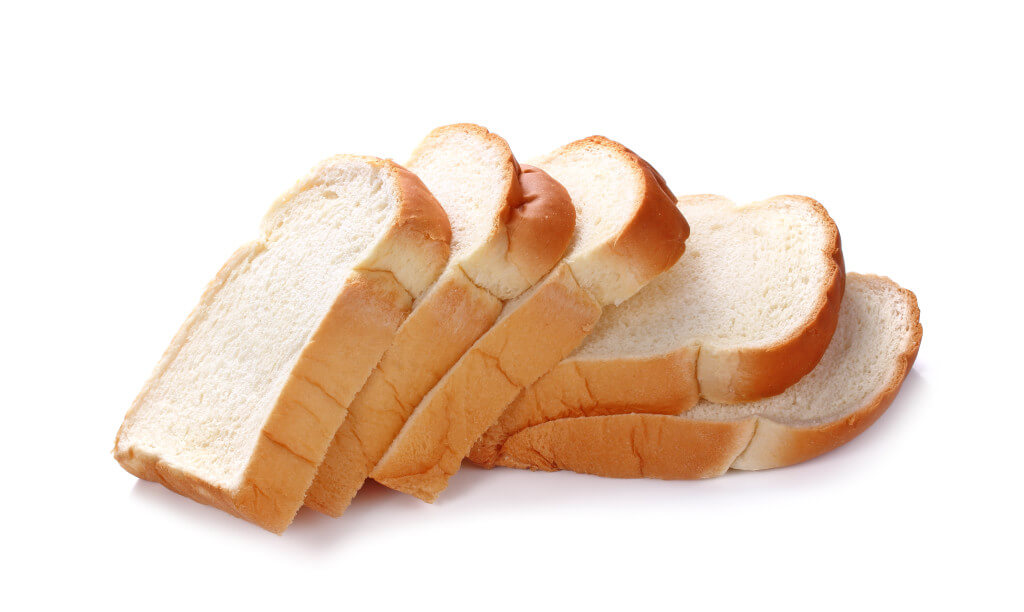 Bread is one of the worlds first artificial foods and is heavily ingrained in most cultures.  We break bread together.
It's wholesome . . . so it must be nutritious.
[adsanity id=3349 align=aligncenter /]
Unfortunately, white bread has been found to make you fat.
One test for whether the food is sugary is to simply place it on your tongue.
The faster it dissolves, the more likely it is made mostly of sugar.  Your saliva has amylase which chops up the sugar.  Cotton candy is the best example.  Place a piece on your tongue and instantly amylase helps dissolve it.
[adsanity id=3414 align=aligncenter /]
You can do the same with bread.
Unfortunately, even wheat bread can spike blood sugar levels.  The glycemic index of whole wheat bread is 71, which is higher than a Snicker's Bar (51).
Whole grain bread is a touch better, but most whole grain or wheat breads available are just as sugary as white bread.
My wife found a bread we all like that has no added sugar . . . Trader Joe's Sprouted 7-Grain Bread.
Trader Joe's Sprouted 7-Grain has zero grams of sugar, 3 grams of fiber and 5 grams of protein per serving, which fills you up.   
 4. Oatmeal
Oatmeal itself is not necessarily sugary, however, it's often flavored-enhanced with a sugary substance . . . such as brown sugar.
Quaker Maple and Brown Sugar flavored instant oatmeal has 12 grams of sugar per packet (43 grams).
Quaker must have felt the pressure . . . they created a low sugar option.
[adsanity id=3414 align=aligncenter /]
The Quaker Lower Sugar Maple and Brown Sugar Instant Oatmeal has only 4 grams of sugar per 34 gram packet.
If you like oatmeal stick to the Quaker Old Fashioned Oats in the round tub.
The ol' fashion oats has a single gram of sugar in a 1/2 cup.  You can add whole fruit and dress it up as you see fit to taste.  Avoid brown sugar, maple syrup, honey or other sweeteners in generous amounts.
5. Tomato Soup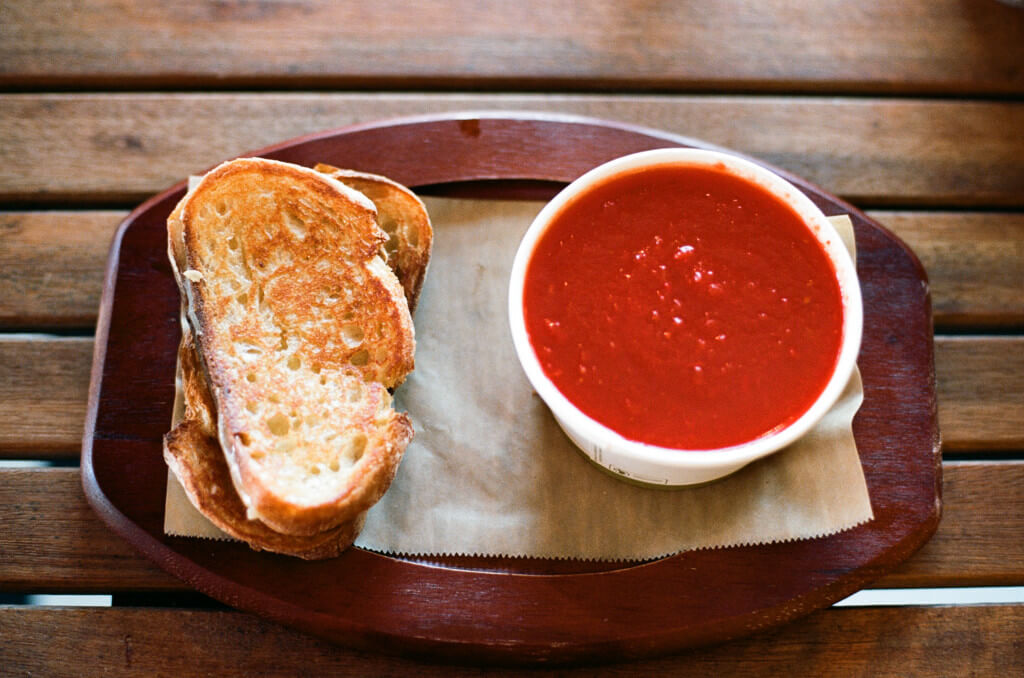 I am guilty of choosing Tomato Soup at Panera as a healthy option. 
One cup of Panera Creamy Tomato Soup has 8 grams of sugar. 
One cup of Campbell's Condensed Tomato Soup contains 24 grams of sugar.  When fully prepared is about 12 grams of added sugar per serving.
[adsanity id=3414 align=aligncenter /]
Tomato soup is sugary.  Tomato's are fruits with a fair amount of natural sugar and in commercial soups sugar is added for taste.
Consider making your own Tomato Bisque or Clean Eating Tomato Soup.  These recipes utilize either diced tomatoes or sugar free tomato sauce.  
 6. Baked Beans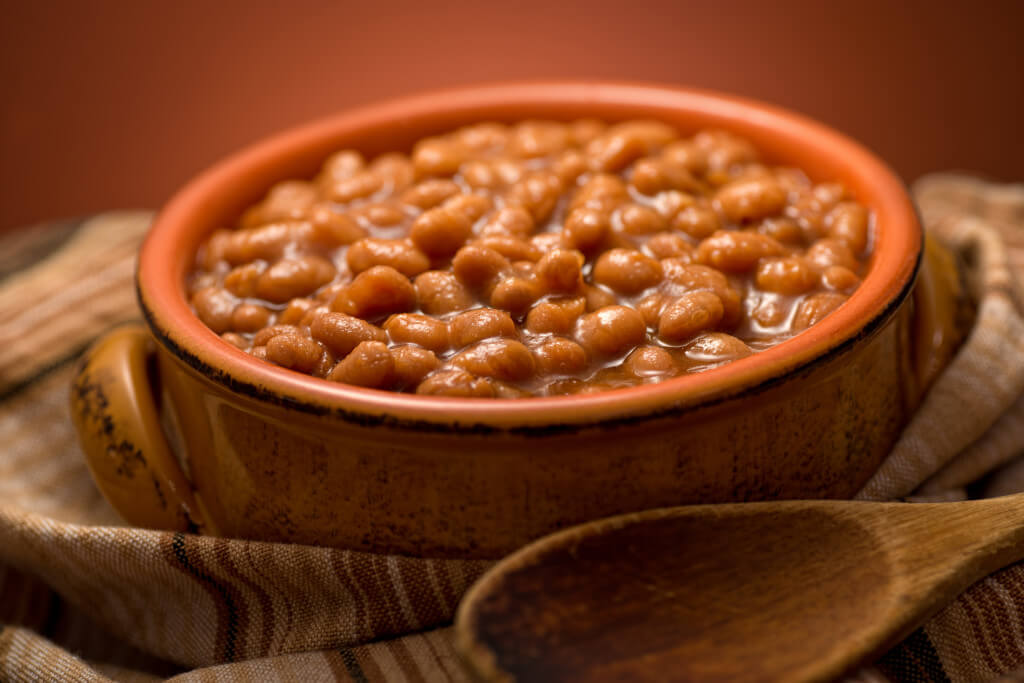 Summer barbecue would be incomplete without baked beans. 
However, canned baked beans are filled with a sugary sauce made from molasses and brown sugar.
Bush's original baked beans, for instance, has 12 grams of sugar in a 1/2 cup. 
[adsanity id=3349 align=aligncenter /]
Who eats a 1/2 cup of baked beans?  For myself, a half cup is just getting started.  
Is it possible to get baked beans without the sugar content?
Absolutely.
Try these Clean Sugar-Free Baked Beans.
7. Pizza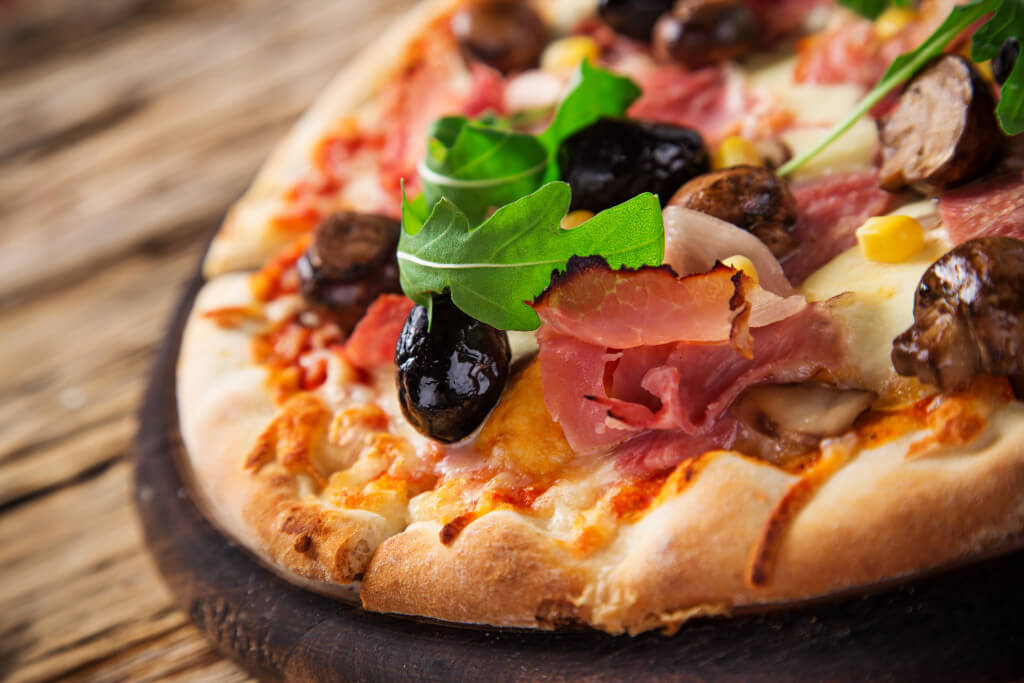 Any diabetic knows that Pizza will destroy their post-meal blood sugar. 
Pizza dough is loaded with flour and sugar causing a drastic and prolonged blood sugar spike. 
The saturated fat from meat and cheese delays gastric emptying. 
This potent combination of sugar and fat causes a severe post-meal blood sugar spike that can last for hours. 
[adsanity id=3414 align=aligncenter /]
I'm convinced Pizza is one of America's most fattening foods on a per capita basis. 
Each American consumes twenty-three pounds of pizza each year.  This  leads to obesity.  
Our household switched to Angelic Bakehouse Sprouted Seven Grain Flatzza.  
They come in 12 inch round pieces that are perfect for individual Pizzas.  The Sprouted Grain Flatzza is made of whole sprouted grains of  red wheat berries and quinoa.  They contain 2 grams of sugar in 1/4 crust, which is 8 grams of sugar per round 12 inch crust.  It also has 3 grams of dietary fiber and 4 grams of protein in a 1/4 crust.  
Use a low sugar pizza sauce or try this no-sugar, gluten free homemade tomato sauce from Preheat to 350º.
Add vegetable toppings and enjoy.
 8. Dried Fruit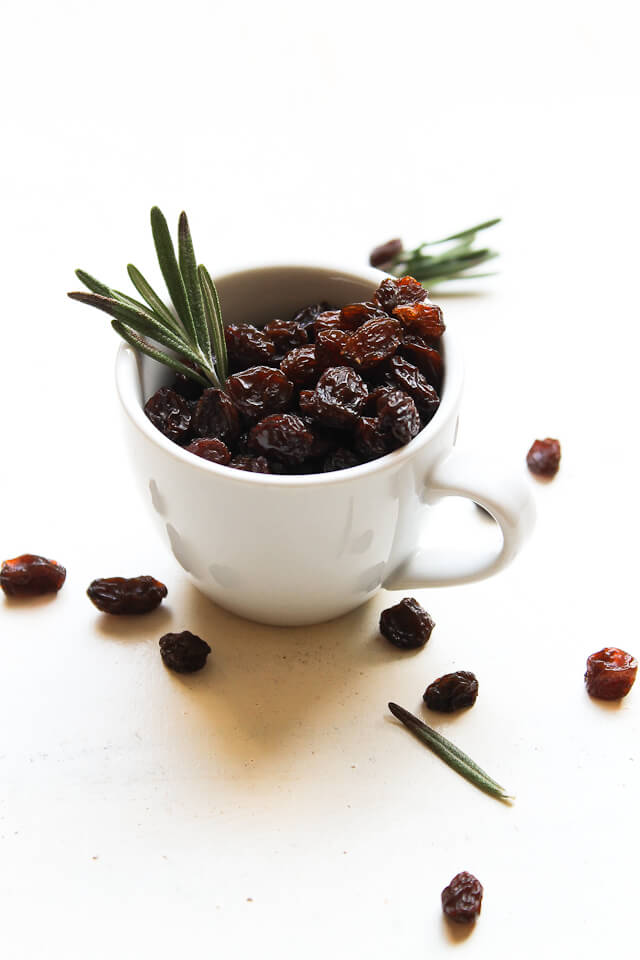 Grapes are a sugary fruit.  Raisins are made by dehydrating the grapes.  This process concentrates the sugar creating a tiny, energy-filled, snack with a sugar content worse than candy.  
A cup of grapes contains 15 grams of natural sugar.
However, a cup of raisins contains a whopping 97 grams of sugar.  
[adsanity id=3349 align=aligncenter /]
You can see it would be easy to toss in several raisins and overdue it on the "natural" sugar.
A cup of dates has 93 grams of sugar.  
Now you can argue that this is "natural" sugar, though "natural" sugar is no healthier than table sugar.  This is just marketing as all sugars are "natural."  Table sugar is made from beats.  Cane sugar is made from canes.  Sugar is sugar.   If sugar is concentrated, it's unhealthy and leads to weight gain. 
Stick to whole fruit, but don't over-consume on naturally sugary fruits such as grapes, berries and bananas.  The fluid and fiber in the fruit will fill you up to avoid overconsumption.   
9. Flavored Yogurt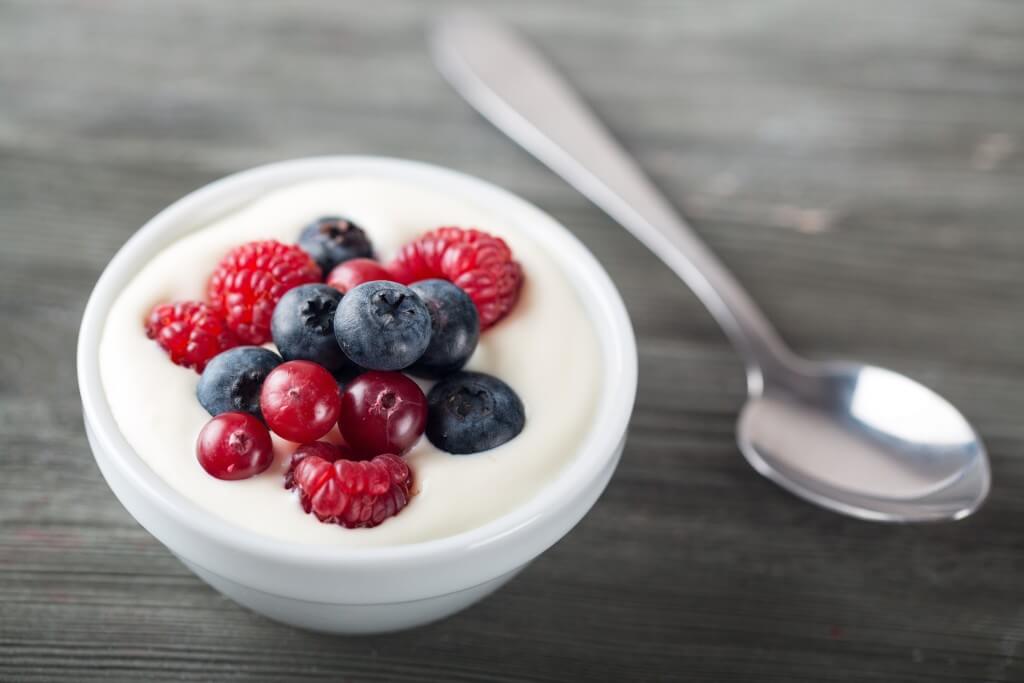 Much like breakfast cereal, yogurt has been successfully branded as a "health food." 
This couldn't be further from the truth. 
Yoplait yogurt, for instance, is loaded with sugar. 
Those tiny yogurt containers pack 26 grams of added sugar – until recently.  
Yoplait, to their credit, has reduced the sugar content by 25%.  Sugar is the second ingredient after actual reduced fat milk for the yogurt.  The 4th ingredient is corn starch.    
Yoplait has reengineered their yogurt to contain only 18 grams of sugar per 1/2 cup.  
Unfortunately, this is still too much added sugar.  This is not a health food, but a dessert.   
Even plain unflavored yogurt has 19 grams of sugar per 1 cup.
Greek yogurt is the next yogurt darling since regular yogurt has started to lose it's health luster.
Greek yogurt is simply regular yogurt that gets strained to remove liquid whey and lactose, leaving you with a thicker yogurt.
Greek yogurt has more protein and less sugar.
Yoplait's Vanilla Greek Yogurt is better at 11 grams of added sugar per 1 cup, but still a fair amount of added sugar.  Your best bet is to go plain – Yoplait's Plain Greek Yogurt – which has only 6 grams of sugar per 1 cup serving size.
Skip the flavorings and add real fruit.
Conclusion
Now, my wife and I still struggle and we are not yet completely sugar-free, but everyday we think about it and make progress.  
Small steps.
The journey to a perfect diet is . . .  not perfect.  It's messy, but  the journey is an important one.
Take your first step today to save on sugar by making just one or two substitutions above.  You should also check out these articles on sugary drinks and sauces.