Losing weight is tough.  Sometimes terribly frustrating.  Fortunately, however losing weight does not have to be complicated. 
In fact, it is really quite simple. 
What you need is NOT another diet book, but higher quality knowledge. 
That is where the list comes in.   These are the books on my shelf that have helped me and my family.    
I guarantee you NO diet books are on this list.  The type of diet is less important than simply taking action.  Eating better.  Eating whole, real food and avoiding the things you know to avoid.  Moving more and doing some aerobic and strength training is also important.
What you do may be far less important than simply maintaining good habits. 
So, this list will not only focus on exercise and eating better foods, but also on your mindset, your motivation and your habits.
Fix one habit and than another . . . this will lead to true progress.  This process takes time.  It's the slow, but effective way to lose weight.
So, the first thing I would recommend is to simply read one book.  Take action. 
Buy one. 
Commit to reading (even just 10-30 minutes a day is fine).   
Jot notes in the margins.  Learn from the books and apply the concepts to your life.
Finish it. 
Start another. 
This is far more powerful than the latest workout craze or fad diet. 
Let's get started.
Here are my picks for the best books to help you lose weight.
1. Why We Get Fat: And What to Do About It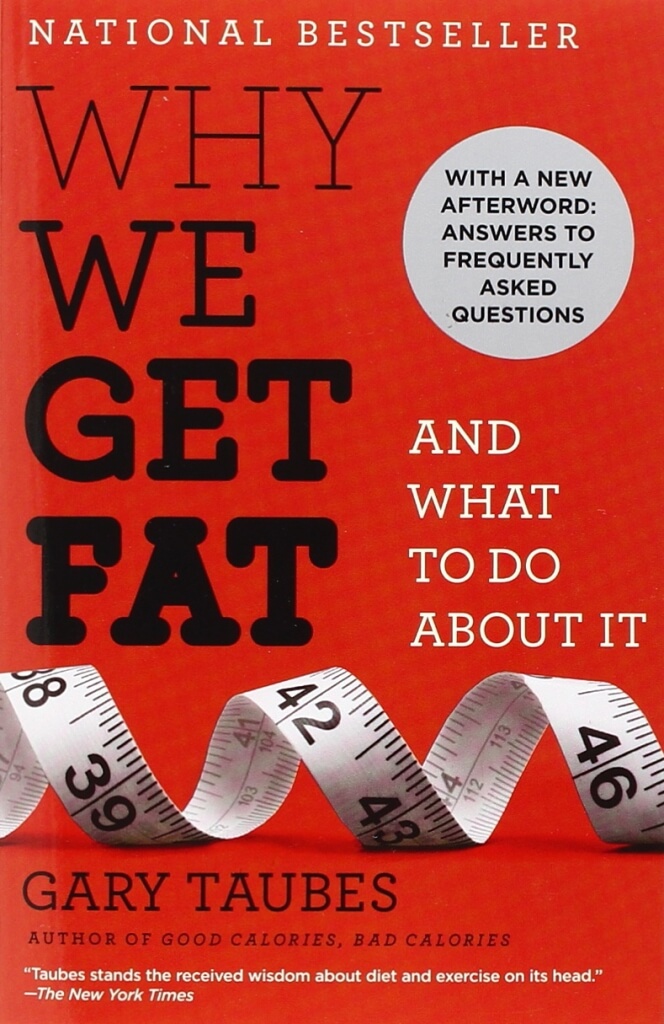 by Gary Taubes
Why We Get Fat is the sequel to Gary Taubes earlier New York Times bestseller Good Calories, Bad Calories where he thoroughly reviewed the science about what really makes us fat. 
No longer should you be thinking "calories in, calories out" when it comes to weight gain.  As always, our bodies are simply more complex.  Why We Get Fat is meant to be a lighter and updated version of his original book. 
I have read both and reviewed some of the science and it has changed my thoughts on why we get fat. 
By better understanding the science behind getting fat you will be better tooled to battle your weight gain.
Why We Get Fat: And What to Do About It
2. Slim by Design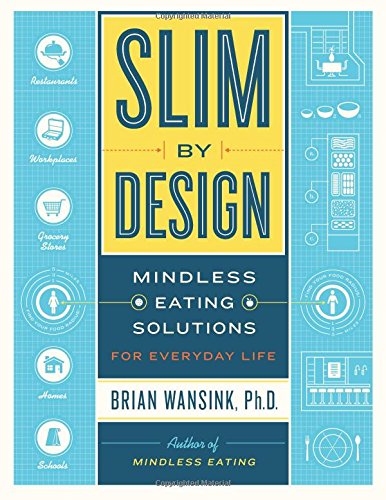 by Brian Wansink
This is the only book of the bunch I have yet to read, but I needed to add it because I have followed Dr. Wansink's work on the scientific journal side.
Slim by Design is the follow-up book to his original work Mindless Eating (which I have read) and is a fascinating ride through Dr. Wansink's comprehensive research on why we eat so much and how our environment can influence us.
Slim by Design is the book meant to show you how to simply change your environment to promote weight loss.  I have no doubt that this will be a great read.  I am ordering mine right now.  I would also recommend his book Mindless Eating as I found his research as well as his writing entertaining and enlightening.   
Slim by Design: Mindless Eating Solutions for Everyday Life
3. Food Rules: An Eater's Manual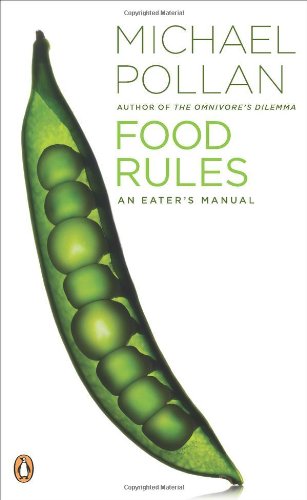 by Michael Pollan
Don't get your fuel from the same place your car does.
This and much more food wisdom is dispensed in Food Rules by bestselling author Michael Pollan who also wrote In Defense of Food and the Omnivore's Dilemma.  Food Rules is a short and simple rule book on what to eat and what not to eat in 64 lessons (one page each). 
He dispenses sage advise in this witty book that is doable, practical and based on science.
My favorites:
Eat only food that will eventually rot.
and
Don't eat anything your grand-mother wouldn't recognize as food.
Rules that belong on a bumper sticker. 
4. Eat for Health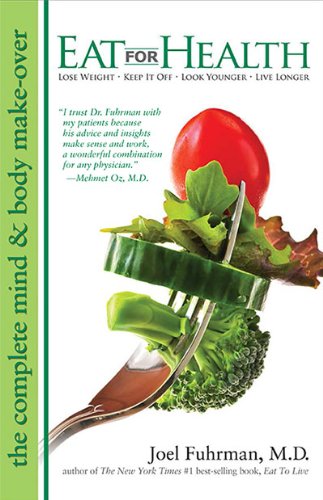 by Joel Fuhrman
This is as close to a diet book as this list will get. 
Dr. Fuhrman will teach you how to be a "nutritarian," which at it's core is a simple concept of eating the healthiest of foods.  The premise is to eat nutrient-dense foods( aka vegetables and fruits mostly) and avoid processed foods. 
This is the simplest of his books to follow.  Learn how to be a master of the Vitamix blender to make your own dressings and other alternatives to our American favorites.  You will learn about the power of kale and other cruciferous vegetables.
5. The End of Overeating: Taking Control of the Insatiable American Appetite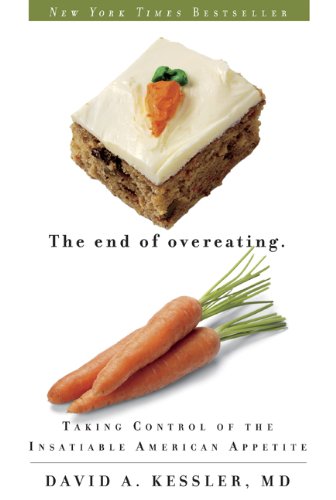 by David Kessler
Dr. Kessler is a physician and prior commissioner of the Food and Drug Administration which puts him in a unique position to understand the influence of the food industry.  In his book The End of Overeating he takes you through the fascinating world of the food industry and how they manufacture hyper-palatable food. 
Why do we inhale our food so quickly and have difficulty stopping?  Have you ever been out to eat and the dish in front of you simply makes your mouth water?  There is a science to this.  The food industry aims to get us back to buy the foods again and again.  The industry employs food scientists to achieve this with new and amazing artificial flavors along with the perfect combination of fat, sugar and salt.  None of which is healthy, but terribly addicting. 
Learn how to take back control or your insatiable appetite.   
The End of Overeating: Taking Control of the Insatiable American Appetite
6. FastExercise: The Simple Secret of High-Intensity Training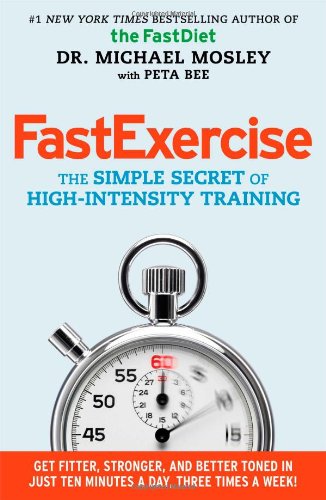 by Michael Mosley
This book by BBC science correspondent and TV personality Dr Michael Mosley takes you through the most recent science regarding high-intensity interval training (HIIT).  If you have been following my blog, you understand how important this form of exercise is. 
Now, no exercise alone will shed all the fat and make you a model, but HIIT has the potential to be a a highly time-efficient exercise. 
HIIT is simply completing bursts of high intensity exercise followed by periods of rest or easier exercise.
It has been found to be well tolerated, even in the elderly and in those with chronic disease and appears highly effective based on initial research. 
HIIT has been studied with running, walking and most extensively with cycling.  Small and well designed studies have shown improvements in weight and abdominal fat in 1/2 the time it would take with moderate continuous exercise.  Superior results have also been found with aerobic fitness and thigh strength as well as muscle adaptations such as increased mitochondria, which are the energy burning organelles. 
So, I suggest that you take a look at HIIT and decide for yourself if this is a good strategy for you.  I would suggest HIIT maybe 3 or 4 times per week along with 2 days per week of strength training.   
Check it our for yourself. 
FastExercise: The Simple Secret of High-Intensity Training
7. The Power of Habit: Why We Do What We Do in Life and Business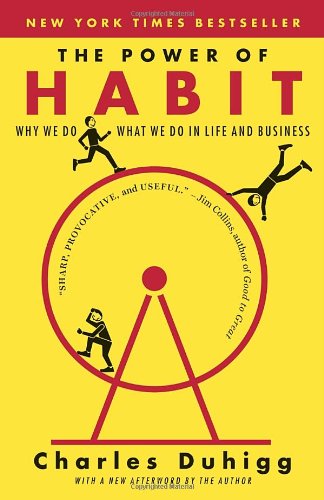 by Charles Duhigg
Charles Duhigg is an investigative reporter for the New York Times and has written a fascinating work on the science of habits.  This book will help you to identify the habits in your life and the science on how to change them.
What is a habit?  Why do habits exist? 
You will follow fascinating stories of how simple habit changes created powerful forces that even saved lives in large corporations. 
The Habit Loop (Cue,Routine, Reward) can be manipulated to help you with your habits. 
You will also learn about keystone habits and their importance.  One of the greatest keystone habits is exercise. 
The Power of Habit: Why We Do What We Do in Life and Business
8. The Willpower Instinct: How Self-Control Works, Why It Matters, and What You Can Do to Get More of It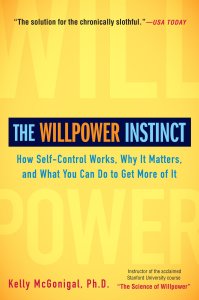 by Kelly McGonigal
Dr. McGonigal is an award winning psychology professor at Stanford University and teaches about the mind-body connection and is the instructor for the popular course "The Science of Willpower."
In her book The Willpower Instinct, she teaches us about the science of willpower and brings this subject to life in an amusing way. 
You will enjoy the science and the writing. 
She teaches you how willpower is like a muscle that you can exercise and when self control gets weak (such as under stress).
Learn how to use the science of self control to benefit your own health and weight loss. 
The Willpower Instinct: How Self-Control Works, Why It Matters, and What You Can Do to Get More of It
9. Making Habits, Breaking Habits: Why We Do Things, Why We Don't, and How to Make Any Change Stick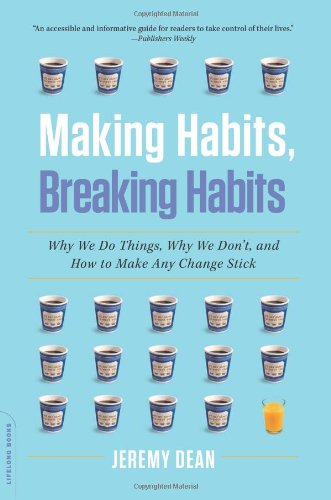 by Jeremy Dean
Jeremy Dean is a psychologist and created the popular psychology blog PsyBlog.  In Making Habits, Breaking Habits he discusses the psychology of habits. 
You will learn how long it will take to make a new habit stick.  It may take longer than you think for more complicated habits like exercise.  You'll quickly learn about the cognitive benefits of exercise. 
Most importantly, however, this book discusses how to break bad habits.  Not only do we need to create new healthy habits to lose weight, but more importantly bust the bad ones and replace them with healthier habits. 
The field of Psychology has given us tools on how to do this. 
This book will show you how to identify bad habits, break them for good and replace them with good habits. 
Making Habits, Breaking Habits: Why We Do Things, Why We Don't, and How to Make Any Change Stick
10. Super Self: Doubling Your Personal Effectiveness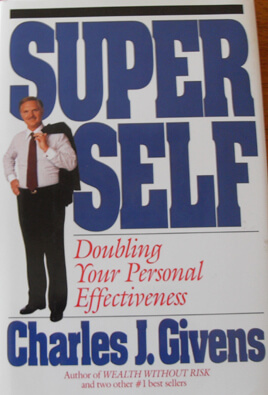 by Charles Givens
I am a big fan of goal setting. 
I think of all the books I have read about goal setting, this is the best.  It is also one of the best books on personal development I have ever read. 
The concepts are laid out and numbered like a long form blog post with easily accessible bits of knowledge.
He could have entitled the book "188 Success Strategies to Double Your Personal Effectiveness."
I would have bought that book as well. 
But for the purposes of this list, I would recommend this book for the goal setting section.  It is detailed and actionable.  This is the perfect book to start your weight loss goals and define them and create actionable steps to get where you want to be. 
Super Self will teach you to be more productive and lead a more organized life.   
Charles Givens teaches you how to manage your time effectively as well.  This is terribly important for our purposes here as the most commonly cited reason for not exercising is lack of time. 
Super Self will help you organize the rest of your life and be more productive.  You can put that new found time to good use working on your health. 
Super Self: Doubling Your Personal Effectiveness
11. The ONE Thing: The Surprisingly Simple Truth Behind Extraordinary Results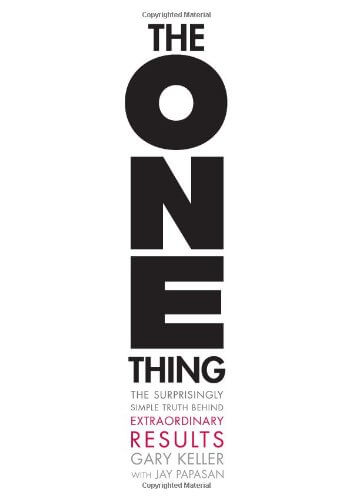 by Gary Keller
Gary Keller, the founder of Keller Realty, has created a gem here.  The One Thing teaches you to focus on the ONE THING that will make the biggest impact in your life. This book will teach you how to narrow your focus to get extraordinary results.   
For my wife the ONE THING was cooking whole foods.  This alone helped our family to lose weight and get healthy. 
The book is a quick read packed with helpful information. 
I found it to be fresh and extremely motivational . . . one of my favorite self development books of all time.
In every aspect of our lives such as the spiritual, financial, social and physical health there is ONE THING that will make everything else easier.
Ask this one question in all aspects of your life:
"What is the ONE THING I can do such that by doing it everything else will be easier or unnecessary?"
This book helps you further define and take action on the ONE THING in our lives that will drive the most impact.
The ONE THING gets to the root cause of all of our problems and fixes that.
"What's the ONE THING I can do to achieve my diet goals . . .?"
"What's the ONE THING I can do to ensure that I exercise . . ?"
"What's the ONE THING I can do to relieve stress . . .?"
Find these things to make everything else easy or unnecessary.
The ONE Thing: The Surprisingly Simple Truth Behind Extraordinary Results
Now pick a book and get reading.  Take action today and let me know how it goes.
weightlessMD@gmail.com